On November 17, the first day of the 21st Guangzhou Auto Show, Nammi's 01 pure electric vehicle opened pre-sale with a price range of 79,800 – 109,800 yuan (11,000 – 15,200 USD). Nammi is a new energy vehicle brand under Dongfeng, focusing on small electric cars, and aims to achieve an annual sales goal of 400,000 units by 2025.
The Nammi 01 is the first model built based on the Dongfeng S3 platform, with dimensions of 4030/1810/1570 mm, and a 2660 mm wheelbase. Its overall shape is round, compact, and cute with triangular headlights, round taillights, hidden door handles, and frameless front doors, which is in line with the design of small EVs.
The charging interface is located on the right front fender. Level 2 advanced driving assistance capabilities are also present, according to Nammi. Furthermore, the vehicle runs on five-spoke rims and is expected to offer 16-inch and 17-inch rims depending on the configuration.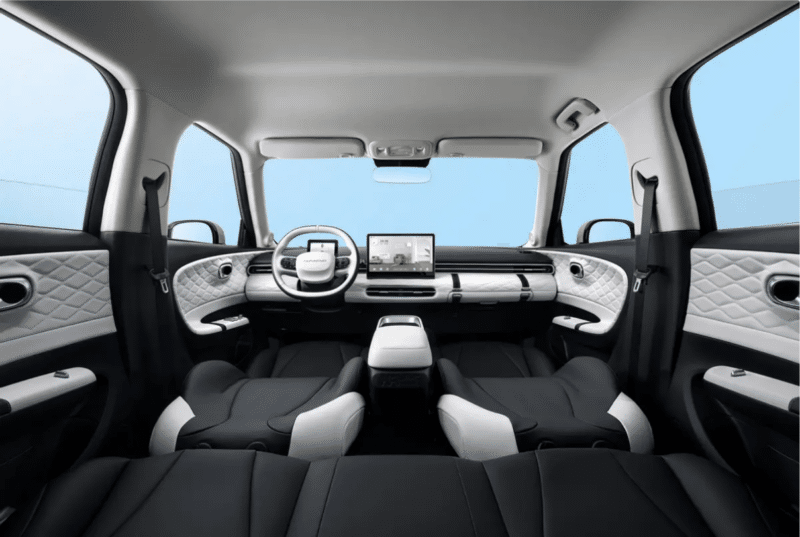 Inside, the interior adopts a black-and-white contrasting color scheme, paired with lattice pattern prints on the door trims.
The number of physical buttons is minimized with the functions integrated into the full LCD instrument panel and floating central control screen. It is worth pointing out that the glove box can be pulled out like a drawer. In addition, the maximum trunk volume is 945L.
Lastly, the Nammi 01 offers front-wheel drive with two cruising range options: 330 km and 430 km, provided by a 31.45 kWh and 42.3 kWh lithium iron phosphate battery pack, respectively. The maximum power of the electric motor is 70 kW and the top speed is 140 km/h. A 400V fast charging is also supported which can achieve a 200 km range with just eight minutes of charging, according to the information declared by the Chinese MIIT.
Source: Nammi, Chinese MIIT