The Beijing Auto Shenbao D-Series was finally launched on the Chinese car market. Price starts at 139.800 yuan and ends at 215.800 yuan. On pics an early bird I met last week in a street not far from my home in Beijing. Biggest surprise: the Beijing Auto-developed 1.8 turbo is immediately available, earlier on we heard it would become available only late this year.
The Shenbao D-Series is based on the first-generation Saab 9-5, Beijing Auto bought the rights to the first generation Saab 9-3 and 9-5 in 2009 from General Motors, by then the owner of Saab. The deal included the Saab-developed 2.0 turbo and 2.3 turbo engines. Buyers can choose between a traditional grille with four bars or the slightly more sporty 2-bar combination.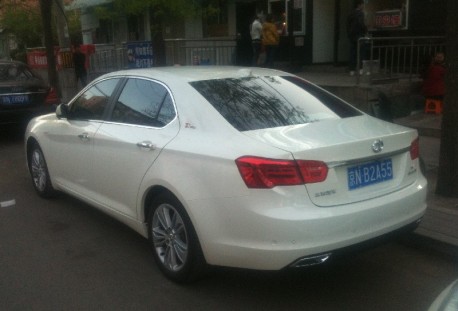 The Beijing Auto Shenbao D-Series is the final production version of the BAW C71 that debuted on the 2010 Beijing Auto Show, it then returned as the Beijing Auto C70G on the 2012 Beijing Auto Show. The Shenbao name popped up in May 2012, followed by spy shots of a Shenbao D280 , followed by the debut of the Shenbao D320 on the Guangzhou Auto Show in November last year, and more recently the debut of the rather interesting 'D-Series Aero' on the Shanghai Auto Show. Shenbao (绅宝) is the old Chinese name for the real-Swedish Saab, which for unknown reasons changed to another Chinese name ( Sabo (萨博)) in the late 1990′s. Beijing Auto can't use 'Saab' so they came up with a new English name; 'Senova'.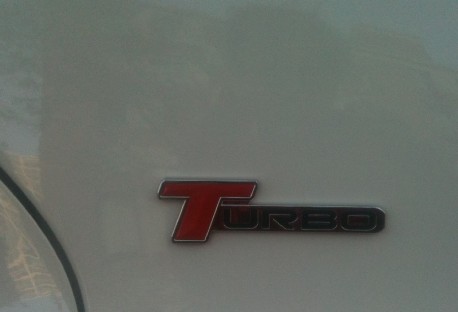 The Shenbao D-Series is thus available with three engines: a 1.8 turbo with 180hp, a 2.0 turbo with 204hp and 290nm, and a 2.3 turbo with 250hp and 350nm. Transmission is a paddle-shifted 5-speed tiptronic. B Size: 4861/1820/1462, wheelbase is 2755.
The Shenbao D320.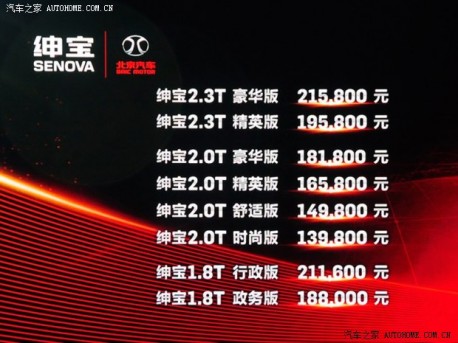 Price list.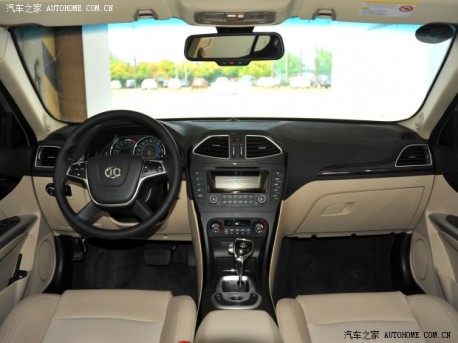 Dash all-new with a large screen in the center console, a sporty steering wheel, very sporty seats and a giant gear-lever knob.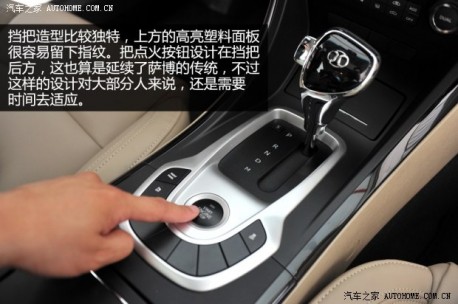 Saab fanboys will love this; the start button sits on the center console, showing Beijing Auto knows its history.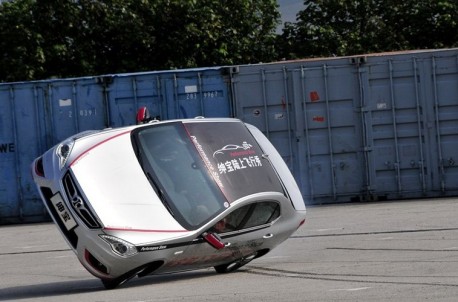 One with the alternative grille, on two wheels.
Additional photos and some info via: Autohome.