A very sleazy BMW M3 sedan, seen on a local BMW club event here in Beijing. The fine vehicle is wrapped in a shiny green wrap that shines more bright than the sun ever does in the capital. The speedy Bimmer is further sexed up by a black bonnet and racy 10-spoke alloys. The rear spoiler, not much more than a lip really, is too small for our taste.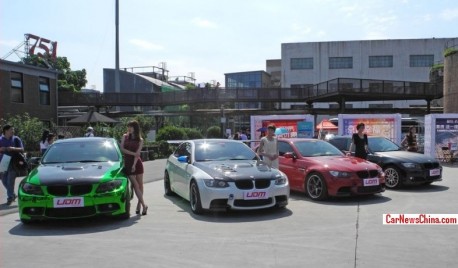 The greenyBeemy with M3 friends. The white car with black bonnet looks really fast and has a proper wing. The E92 BMW M3 is an extremely popular car in China, no matter its mad 1.29 million yuan or 210.000 USD price. Power comes from a 4.0 V8 with 420hp and 400nm, but we bet all these four vehicles in Beijing got considerably more than that under the bonnet.
Here is our Famous China-BMW M3 Collection!™: with hot redhead, with friends at the karaoke bar, Bling, license (M3246), body kit,  license (908M3), mint green, baby blue, E46 Convertible, Bling Convertible, shiny blue, matte black, and completely mad.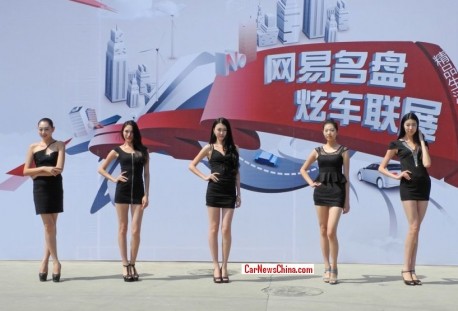 They also had a modelling competition. The girls kicked ass.