A beasty black Mercedes-Benz C63 AMG, seen by reader Pinut187 in the great city of Xiamen in Fujian Province, thank you for the pictures! The license plate reads 8L563, and that is one of the best license plates on a C63 AMG we have seen so far. The speedy Benz is slightly sexed up by a subtle red lip in the front spoiler.

The C63 AMG is powered by a by a 6.2 liter V8 that poops out 460hp and 600nm, price in China is 998.000 yuan or 161.800 USD. Very expensive indeed, but you won't go much faster for the money; 0-100 is gone in 4.4 seconds and top speed is 280km/h.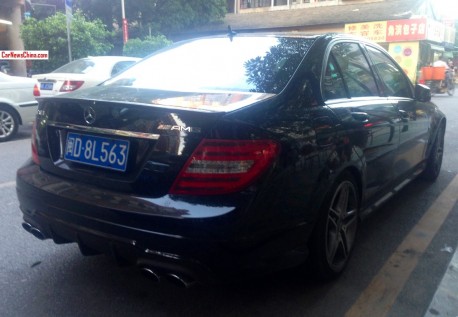 All Mercedes-Benz AMG models are imported into China to keep them exclusive and the keep the AMG secrets out of Chinese hands. The bread and butter C and E are made in China by the Beijing-Benz joint venture.
Time now for our Famous China-Mercedes-Benz C63 AMG sedan Collection™:  light-matte yellow, shiny purple, purple with babe, license, black with a license, matte black, Bling, in purple, in matte-purple, Wald Black Bison, Renntech C74 and in pink.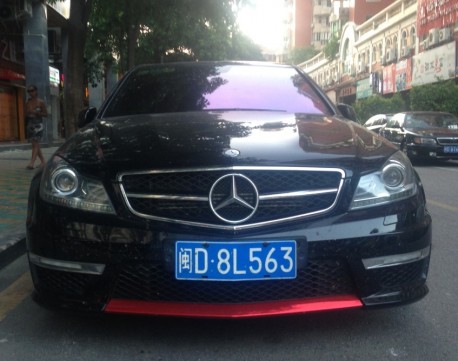 Red lip a sweet contrast with black body.