A shiny purple Mercedes-Benz C63 AMG, seen in the Sanlitun beer district in Beijing. This very Benz is exactly the same vehicle that was being pretty, with some girl, in a steaming photo shoot we showed you last week.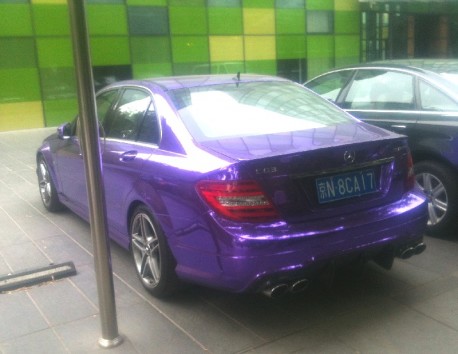 The shiny purple wrap is of the highest quality and perfectly covers the bumpers and the mirrors. Exhaust pipes and diffuser are after-market additions that make a fast Benz even faster. Price for the C63 AMG in China starts at a steep 998.000 yuan, or 161.800 USD. But power! The C63 comes with a 6.2 liter V8 that poops out 460hp and 600nm, 0-100 is gone in 4.4 seconds and top speed is 280km/h.
Time now, for our famous China-Mercedes-Benz C63 AMG Collection™: purple with babe, license, black with a license, matte black, Bling, in purple, in matte-purple, Wald Black Bison, Renntech C74 and in pink.