A stealthy Subaru Impreza WRX STI hatchback, seen on the Wufang Tianya Automobile Parts City in east Beijing. The speedy Suub was wrapped in a matte black wrap and further sexed up by matte gray 6-spoke alloys.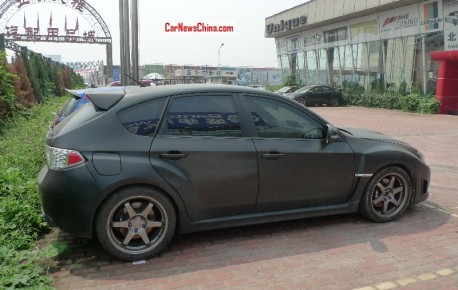 Hige wing at the back part of the WRX magic! The third generation Impreza WRX STI debuted in 2007, this particular car is a pre-facelift model which was made until 2010. Power came from a 2.0 turbocharged four-cylinder engine with 300hp and 407nm.
The Impreza WRX STI is not a very popular car in China and the hatchback versions even less so. This so, is a rare little speedmachine. Still, we got us a small collection: body kit, orange sec-gen, first-gen GC8C, and the Swift.