A giant Foton Auman transport truck loaded with 13 Volkswagen Tiguan SUV's, one Polo hatchback, and one Volkswagen Touran MPV, Spotted in China just inside the mighty Fifth Ring Road in the far east of Beijing. The truck is not allowed to be there at all, but in this part of town nobody cares and nobody knows. And it is on bicycle lane too!, blocking the way for me on my fast electric scooter.
Officially these big trucks have to go to a designated government operated transfer facility, several of which are positioned near major highways outside the Fifth Ring. There they have to transfer the cars to smaller transport trucks that then bring them to the dealer.
This of course takes time, causes trouble, and costs a lot of money for fees. And nobody likes all that, so truck drivers and dealers have come up with other ways. Some trucks offload in murky areas just outside the Ring, and others sneak inside, like this one we have here. When darkness falls many men will show up and drive the cars one by one to a nearby dealer.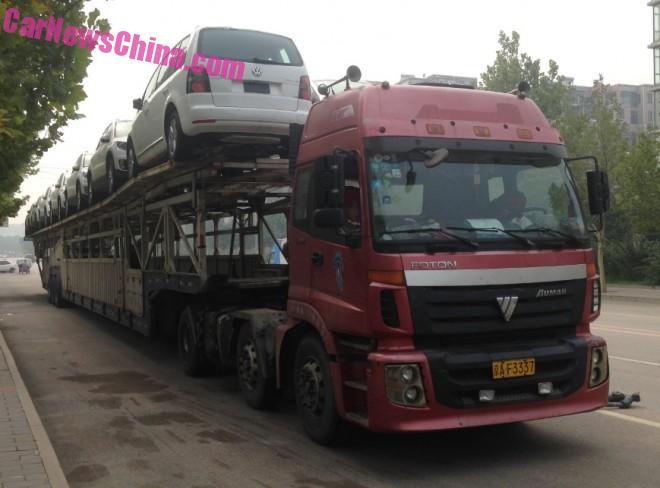 Naturally, police could check this out, find the driver, fine him, fine his company, fine the dealer. But they do not. There simply isn't any police around in this part of town, always hard to believe for those who think China is some kinda police-controlled North Korea-style country. Police does do crackdowns now and then but usually only after a big accident with dead people, and it will only take a week or so before everything turns back to normal again.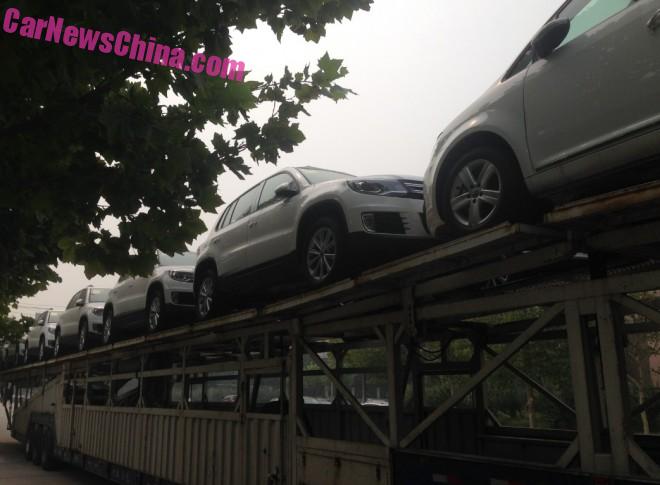 This particular truck was about 30 meters long. It had two rows up and one row down. The lower row was empty bar for one Tiguan. There was enough space for another six cars, bringing the total Tiguan capacity of 21.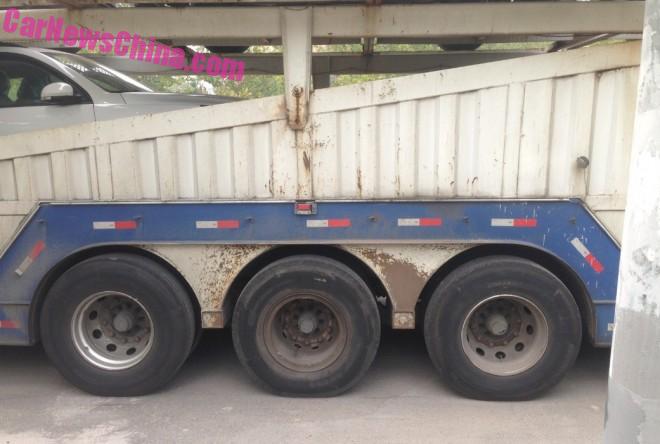 Three axles at the rear. Wheels are surprisingly small.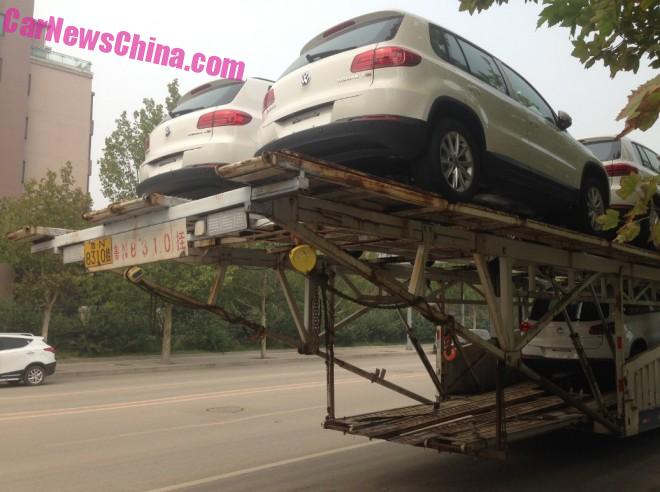 The monstrously dangerous rear end. No lights or reflectors. Imagine a bus on the highway at night at high speed. Driver is tired, reaches for his cigarettes, eyes off the road, and… BOEM.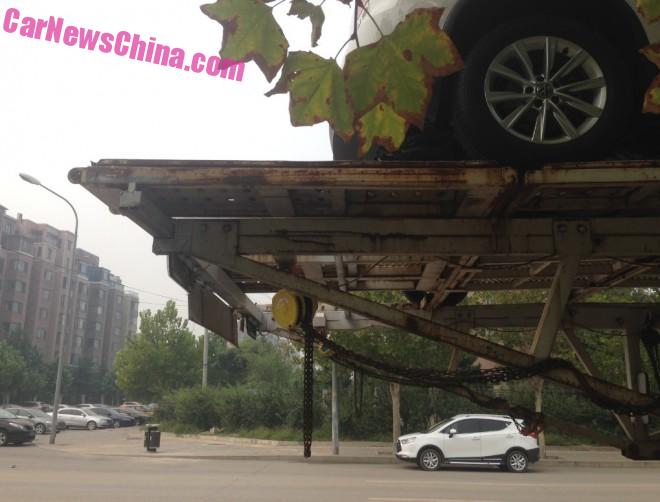 That kills.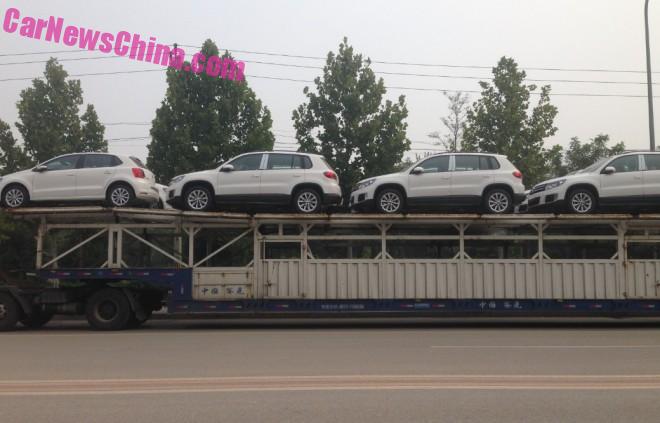 They are all in white.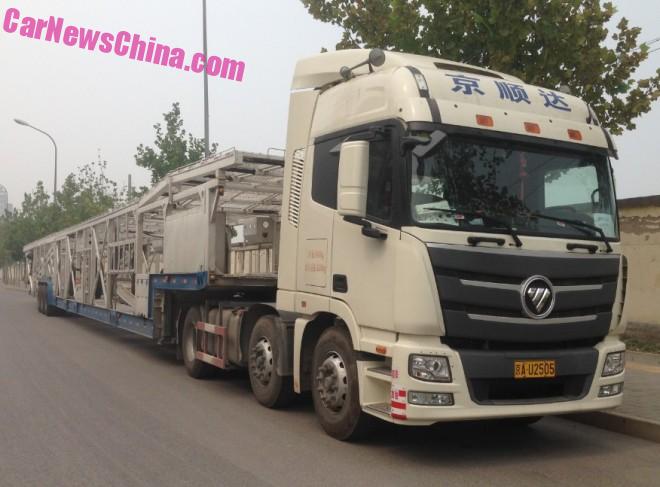 In a nearby street another giant Foton, standing empty, the driver probably asleep in the cabin, waiting for darkness to sneak back out.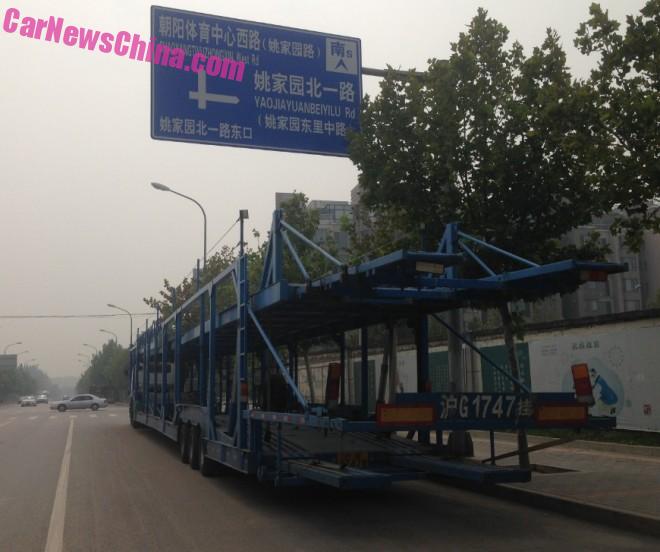 And this! A big blue truck registered in Shanghai. It has two layers for killing…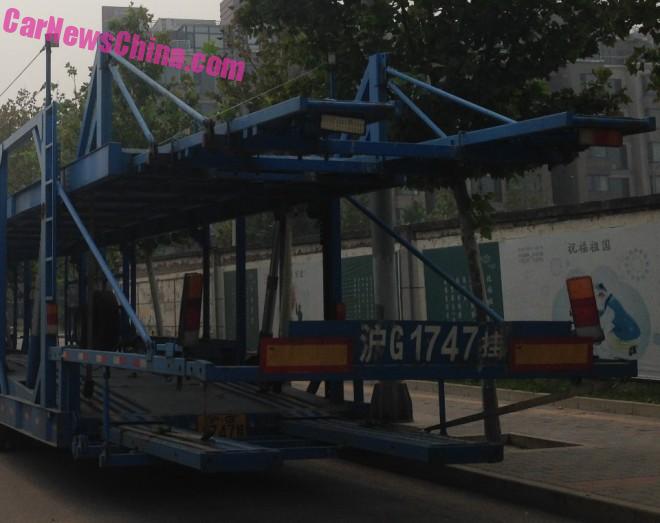 … but at least it kills with some reflection.