This is likely going to be the craziest Chinese vehicle to launch this year. It is a new variant of the Beijing Auto BJ80, fitted with a lot of new body work and a partially new interior. It debuted last year as a semi-concept on the Guangzhou Auto Show, where it was called Riot Control Car. The yet nameless production car has slightly different lights and bumpers but it is otherwise very similar. And most interesting, it has an American connection.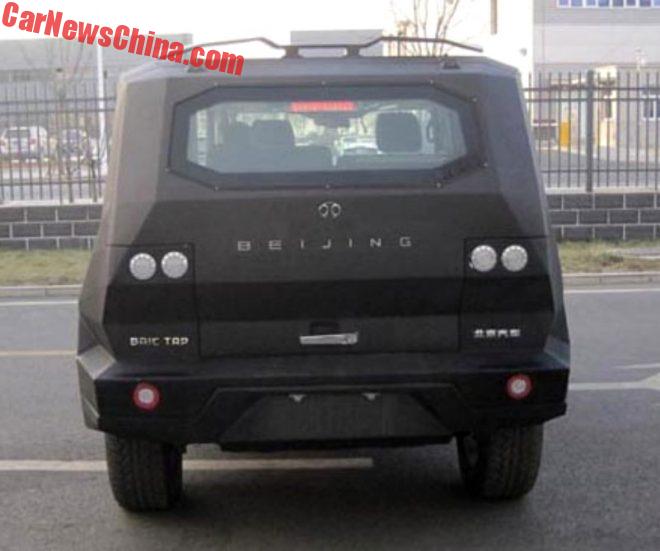 Note the BAIC TAP badge on the left. Beijing stands for Beijing Auto Industry Corporation, the owner of the Beijing Auto brand. TAP stands for Transamerican Auto Parts, an American aftermarket-parts manufacturer, specialized in Jeeps and other off-road cars. BAIC and TAP entered into a partnership in 2014 with TAP to "design and manufacture an entire line of premium off-road products and accessories".
The monstrous 'Riot Control Car' however seems to be a bit more than just a dressed up BJ80, so it seems that companies have since extended their agreement. More on this if we find out.
In the meantime; the riot control car is not really a riot control car; it is more like a luxurious armored car for wealthy clients who need a bit more protection, a bit like cars such as the Dartz Prom and the Rhino GX. Check the interior: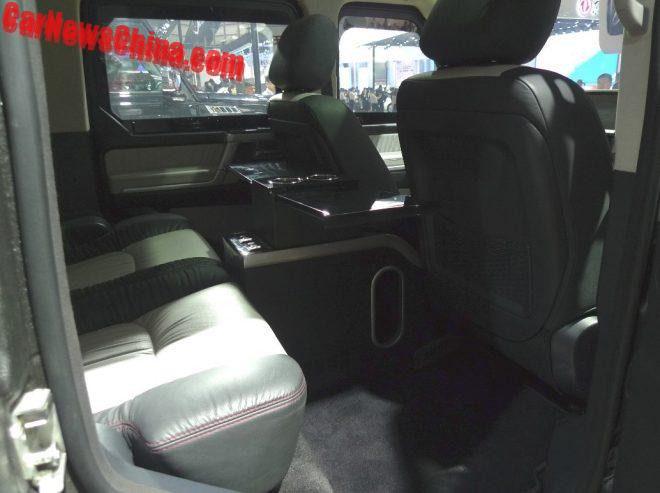 Two captain seats and tray tables, but strangely no flat screens.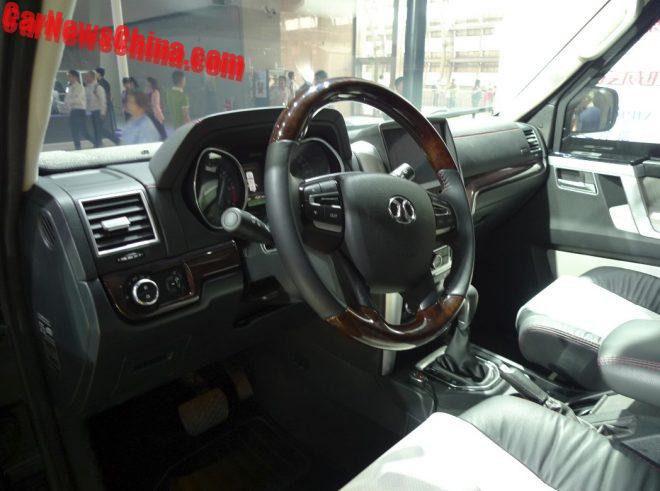 Dash is the same as in the standard BJ80.
Now guess what powers this not-really riot control vehicle. It comes from Sweden. It is old. Yes! The Saab 2.3 turbo four, good for 250hp and 350nm, mated to a six-speed manual or a six-speed automatic, sending power to all four wheels.
Beijing Auto Industrial Corporation (BAIC), the owner of Beijing Auto, bought the rights to the Saab 2.0 turbo and Saab 2.3 turbo from GM in 2009, along with the rights to the platforms of the Saab 9-3 and first generation Saab 9-5. The 2.3 turbo also serves in the base BJ80,the Senova D70 and the Beijing Auto BJ40, among others.