The beautifully weird Beijing Auto BJ80 Riot Control Car was unveiled on the 2016 Guangzhou Auto Show in China. It is based on the BJ80 SUV but fitted with a completely new body and clad in extra steel and kevlar plating. The result is absolutely impressive, especially in this matte gray color scheme.
The BJ80.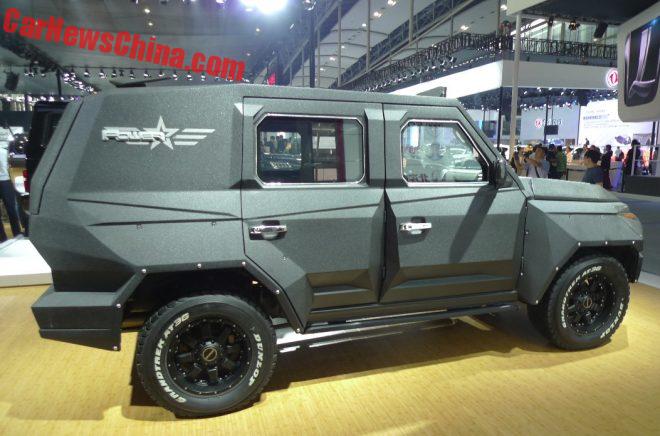 It looks all the armored car business with angled and sculpted surfaces to deflect rockets and shock waves. And it even has a sticker on the rear panel depicting a white start with the word 'power'. Secretly however this is not riot control vehicle. Instead it is a luxurious armored car for wealthy clients who need a bit more protection, a bit like cars such as the Dartz Prom and the Rhino GX. Check the interior: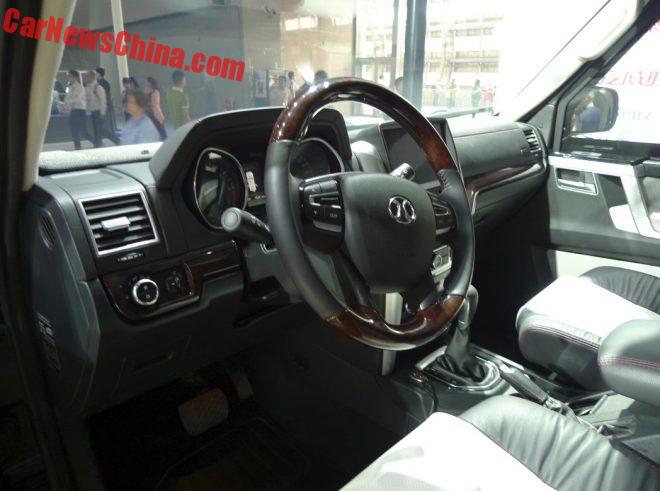 That's exactly the same interior as the BJ80. Nothing riot control but leather and wood.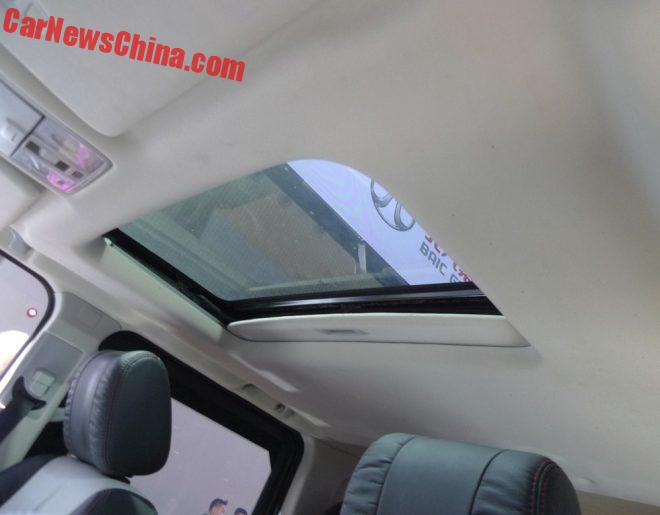 It also has a sunroof, which makes all the armor completely useless. The bad guys will aim it all at the roof… Grenades coming in instead of sunshine!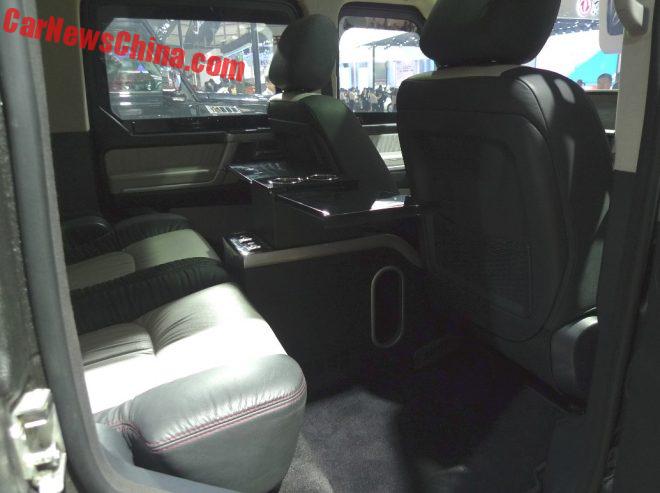 The rear has two individual seats, although they are so close to each other they in effect form a bench. There are two tray tables and another tray with two cup holders in the middle.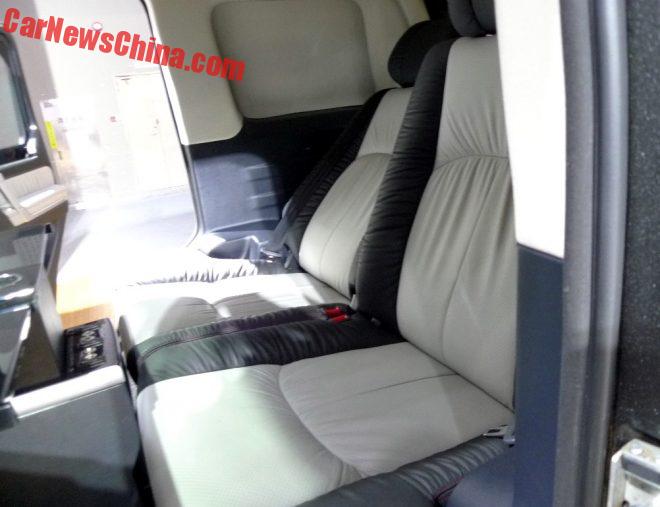 You can still see the shape of the third side window. That is where the power sticker sits on the outside.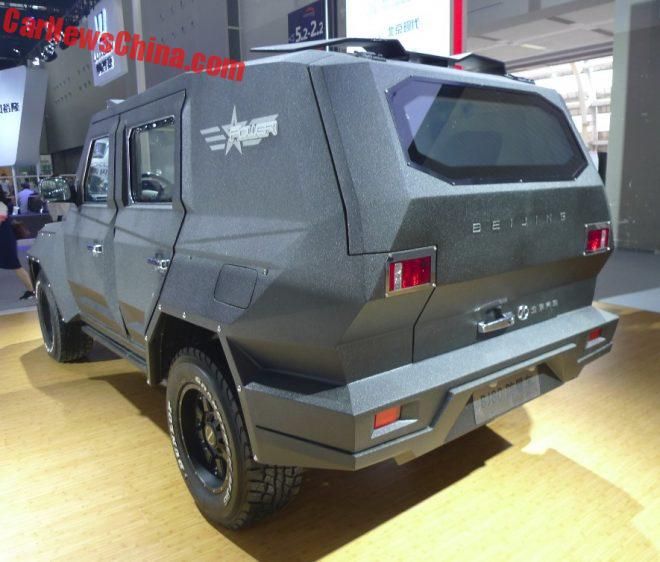 The rear looks brilliant. The lights are so small they are hard to aim at. The window is narrow, for the same reason I bet. They also could have done without the window.
Now guess what powers this not-really riot control vehicle. It comes from Sweden. It is old. Yes! The Saab 2.3 turbo four, good for 250hp and 350nm, mated to a six-speed manual or a six-speed automatic, sending power to all four wheels.
Beijing Auto Industrial Corporation (BAIC), the owner of Beijing Auto, bought the rights to the Saab 2.0 turbo and Saab 2.3 turbo from GM in 2009, along with the rights to the platforms of the Saab 9-3 and first generation Saab 9-5. The 2.3 turbo also serves in the base BJ80,the Senova D70 and the Beijing Auto BJ40, among others.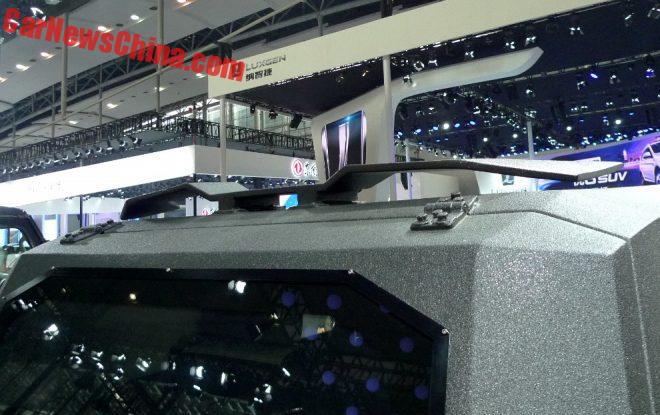 A proper wing. Armored cars need down force. Lots of it!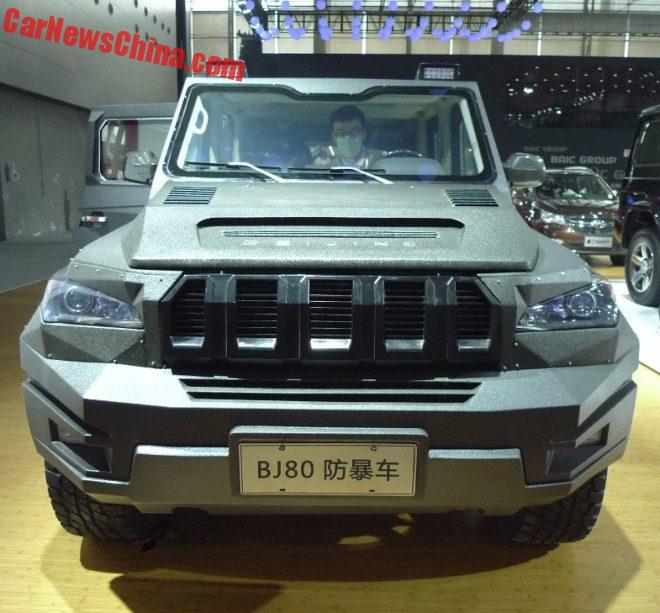 It will certainly scare people. Windows are bullet proof, or so the company said They did look really thick. It has two search lights on the roof. Grille seems ready to punch.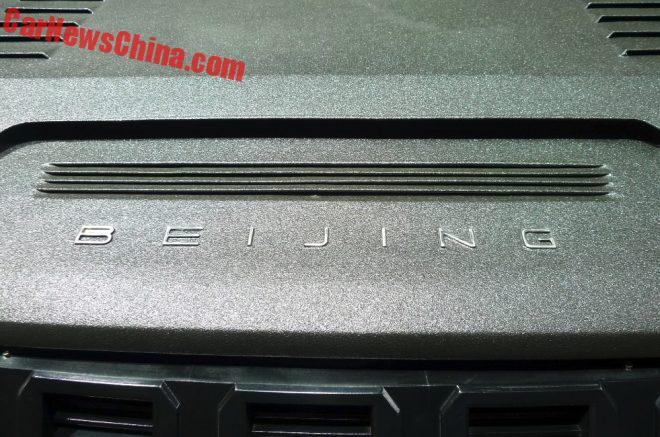 Very nicely done, the Beijing name in front of the air ducts. The standard car doesn't have any ducts in the bonnet. The engine probably needs extra cooling when it copes with all that extra weight. The BJ80 Riot Control luxury Car is available on special order. No word on price, but we bet it won't be cheap.