FAW Group (China First Automobile Group) is a large state-owned vehicle manufacturer. It has important interests in the passenger car market, but commercial vehicles are the main product of the group. In part two of this series we take a look at this sector, despite CarNewsChina being a passenger car website.
In the first episode I provided a corporate chart. For your convenience, below is part of this chart, highlighting the companies we look at today.
FAW Jiefang Group Co., Ltd.
To do FAW Jiefang justice, I should take the space for an elaborate description, but because of the scope of the website (and presumably the interest of the reader), I'll keep it short.
To set the scene, FAW Jiefang is the largest truck manufacturer in China in the medium and heavy duty segment. It produces over 300.000 trucks per year and has a market share of 25%. That's well ahead of its main competitors Dongfeng Trucks, Sinotruk, Shaanxi Trucks and Foton. Jiefang also exports about 10% of its production to the Asian, African and South American market, mostly as knockdown kits. Jiefang has nine overseas assembly plants in the aforementioned regions.
In part one we already covered the first Jiefang CA10 truck, which was based on the Russian ZIS 150 and produced between 1956 and 1986. It's successor, the CA141, hit the market in 1982 and was a much modernized version of another Russian truck, the ZIL 130 (dating from the 1960s). After that Jiefang began to speed up its product development. The third and fourth generation trucks are introduced in 1991 and 1997. These trucks have a self-designed frame, but use cabins from Japanese manufacturers like Isuzu and Mitsubishi.
In the early nineties Jiefang also acquires the Wuxi Diesel Factory. This engine builder, established in 1943 already, is one of the few Chinese diesel engine manufacturers that possess some R&D capability of its own. Jiefang gradually builds out the company and today Wuxi Diesel builds the majority of diesel engines used in Jiefang vehicles.
In January 2003 FAW spins off the Jiefang division as a wholly owned, separate company named FAW Jiefang Automobile. A year later Jiefang's fith generation of vehicles (J5-series) see the light of day. For the medium trucks Jiefang continues using borrowed cabins, but in the heavy segment the design is done entirely in-house. This is quite an achievement, since Jiefang really does it on its own. The company does not enter into any joint venture with an established foreign manufacturer. At one time (late 1990s) Jiefang does negotiate with Mercedes Trucks, but the Germans make demands the Chinese do not want to meet. Mercedes then ends up with BAIC Foton.
Newer vehicles are the J6-series from 2007 and the J7-series from 2017. As usual for China different generations of vehicle are sold alongside each other, so trucks from J5-, J6- and J7-series are all on sale.
Not too long ago Jiefang had its business validated by external consultants and they did an interesting discovery. Where a company like Traton (VW's truck division) generates about a third of its revenue from new car sales and the rest from aftermarket activities, Jiefang new car sales count for 95% of the revenue. So Jiefang turns its focus more on aftermarket activities. In line with that strategy is a strong R&D effort into autonomous driving for trucks, which can be sold as a service.
As you can see in the diagram, FAW Jiefang Automobile is now part of FAW Jiefang Group and a listed company as well (on the Shenzhen Stock Exchange). This was achieved by a complicated asset transfer in 2020, which will be explained in the chapter on FAW Car (part 4).
FAW Bus & Coach Co., Ltd.
FAW's bus activities start when the aforementioned Jiefang United Automotive acquires the manufacturer Wuxi Bus in 1986. This bus manufacturer dates back to 1959. In 2003, Wuxi Bus is renamed FAW Bus & Coach and, together with a factory in Chengdu and two departments in the Jiefang diesel engine factories, it forms a subsidiary of China FAW. The Wuxi Bus buses initially appear under the Taihu brand name, but later on the Jiefang brand name is increasingly used. The factory of Chengdu mainly produces Toyota Coaster buses.
During the recent reorganisations, which you can read more about in the chapters on FAW Car and FAW Jiefang, the bus department is split up. Two-thirds of the original Wuxi Bus is sold to CRRC, a train manufacturer. The remaining part of FAW Bus & Coach will become a subsidiary of FAW Jiefang somewhere down the line. FAW is a medium-sized player in the bus sector.
FAW Light Commercial Vehicle Co., Ltd.
As explained in the opening article, FAW begins to buy up large parts of their supply chain in the 1980s and 1990s in order to streamline the production of mostly trucks. This leads to the acquisition of a whole series of factories that assemble light trucks. Here is a non-exhaustive list of some of the acquisitions that in some way contributed to FAW's light commercial vehicle group.
Changchun Light Automobile Factory: Located in the same city as FAW itself. FAW takes over this factory in 1986. See the next section for further details.
Jilin Light Truck Factory: Becomes part of FAW in 1987. Jilin gets its own section below as well.
Harbin Light Vehicle Factory: Established in 1965 as a weapons factory for the Ministry of Aerospace Industry. In the 1980s they also assemble light trucks based on the Isuzu Elf, as many Chinese factories do. In 1993, FAW takes control.
FAW Lingyuan Automobile: This is a 1993 joint venture between FAW and truck manufacturer Linghe from Liaoning Province. Linghe is part of China Aerospace, a major weapons and aerospace company. In 2014, Shanghai Feihe Industrial Group takes over most of the shares, FAW retains 5%, Liaoning Province 14%.
Jinbei Automobile: Manufacturer of vans and buses in Liaoning Province. It is now part of the Brilliance Group. In 1995, FAW buys 51% of the shares, but in 2000 they are sold back to the Liaoning government.
Chengdu Automobile Factory: A small manufacturer in Chengdu, Sichuan Province. The company is acquired by FAW in 1996 and later merged with both FAW Bus and the Sichuan Toyota bus joint venture.
Lanjian Automobile Factory: Small truck manufacturer in Wuxi, Yunnan Province. The company was founded in the 1980s by the local government and in 1996 FAW acquired a majority stake. In 2003, cigarette manufacturer Yunnan Hongta Group (part of China Tobacco) also invested in the factory and the name was changed to FAW Hongta Yunnan Automobile.
When FAW is a shareholder of Jinbei, that company has a joint venture with GM for the production of light commercial vehicles. This joint venture is later transferred to SAIC, but the contacts with the Americans come in handy. In 2009, FAW and GM enter into a joint venture agreement themselves. FAW's share is the application of Harbin Light Vehicle and FAW Hongta Yunnan, both of which will become part of the FAW-GM Light Commercial Vehicles joint venture.
The production of Jiefang light trucks remains the main activity of this joint venture, but also a pickup is launched in 2011. FAW is a very small player in that market and is trying to get a foot in the door with the help of GM. The Kuncheng pickup shows a strong resemblance to the Chevrolet Silverado and is produced by FAW Hongta Yunnan. However, the numbers remain limited. In 2019, GM has had enough of it and withdraws from the joint venture. The company will henceforth be called FAW Light Commercial Vehicle and becomes wholly owned by FAW.
FAW continues to make pickups, albeit on a small scale and sold only in certain parts of the country. After the disappearance GM, FAW deploys the new brand FAW Lanjian, that produces the Kuncheng successor, a generic pickup. The exact same car is also made FAW Lingyuan, under the brand name FAC Leishen. As mentioned, this company is no longer under the control of FAW. How interchangeable some pickups are in China shows by the fact that the FAW Lanjian/FAC Leishen is also made as BAIC Doda (a brand of Beijing Automobile) and as Projen (of Lifan).
Finally, here's a section about a small manufacturer, that was only part of FAW for a short time. In 1988, Yang Longyiang establishes Guangzhou Baolong Light Vehicle Co., Ltd. He specializes in making bulletproof cars, based on Ford Transits or Renault Traffics. From 2001, the company also produces a MPV based on the Mitsubishi Space Gear, called Baolong Pegasus. In 2005, the company faces financial difficulties and forms a joint venture with FAW Hongta Yunnan. Most of Baolong's operations transfer to this joint venture. The Pegasus is then sold as FAW Freewind. Five years later, BAIC Group buys all the shares of the joint venture and the factory is converted into a production facility for BAIC models. Baolong still exists, the original company now limits itself to vehicle modifications again.
Changchun FAW Huakai Automobile Co., Ltd. / Mingjun Automobile Co., Ltd.
In 1969 Second Automobile Works, the truck manufacturer brought to life by FAW, opens the Changchun Dongfeng Automobile Factory. This factory produces light trucks of the Dongfeng brand. In 1986, however, FAW takes over the factory and shifts production to light Jiefang trucks. The facility is renamed Changchun FAW Light Vehicle Factory .
For decades this factory is just an assembly plant for Jiefang models, but that changes around 2010 due to the impulse of an external investor. The Changchun factory then markets a generic Chinese pickup and SUV under the Huakai brand. At the same time it starts development of a more modern pickup in cooperation with the small manufacturer Kawei.
The external investor is Mingjun Group, a company of the Xu family with Xu Minjung as the driving force. Xu has been active in real estate and financial services until then and also runs an industrial branch, making things like boilers and water pumps. It is one of the many companies that tries to enter the car industry in the early 2000s. In the late 2000s, Xu starts investing in a number of FAW companies and around 2014 acquired most of them. In addition to Changchun FAW Light Vehicle, he also takes over Sichuan FAW Special Purpose Vehicle, Changchun FAW Hongding Automobile and Harbin FAW Transmission.
Although Xu becomes full owner, the companies will continue to use the FAW name. The factory in Changchun is renamed Changchun FAW Huakai Automobile. Xu groups everything under a new holding company Mingjun Automobile. The company makes the pickup developed with Kawei and a range of FAW-based commercial vehicles. The vehicles continue to be registered under the Huakai brand name and the FAW logo can still be seen on most models.
In addition to the production of FAW-related vehicles, Mingjun startes a new collaboration. Hebei Yudea New Energy Technology is a producer of LSEVs (low-speed EVs), cars with 4 or 5 kW of power and a top speed of about 70 km/h. Despite the specifications, they generally look like normal A or B segment cars. However, LSEVs are not cars under Chinese law and many LSEV manufacturers look for ways to become car manufacturers. Yudea does this by collaborating with Mingjun. Equipped with a more powerful motor and larger battery the Yudea LSEV morphs into a real car and sells under the Mingjun brand name.
FAW Jilin Automobile Co., Ltd. / Etsong Vehicle Manufacturing Co., Ltd.
First Automobile Works is located in Changchun, Jilin Province. In 1981 a small car manufacturer sees the light of day in the eponymous capital of that province. This company, set up by the city government, carries the name Jilin Light Vehicle Factory. They make minivans based on the seventh generation Suzuki Carry, neatly under license. In addition, the company also produces parts for FAW. The latter activity leads to FAW acquiring a stake in the company in 1987 and taking it over completely in 1991. As you would expect by now, that means a change of name, to FAW Jilin Automobile Co., Ltd.
In the 1990s, FAW Jilin exchanges the seventh generation Suzuki Carry for the ninth and at the same time they start to introduce their own R&D into the product and the design. Ten years later, the Suzuki base is barely recognizable. The Jilin vans become quite popular in the (northern) region.
The success of its minivans make the FAW Jilin directors think about bigger things, like passenger cars. And this is where two quirks of Chinese automotive history come together. First, FAW Jilin does not turn its parent company for a strategic approach, but independently looks for opportunities. Second, to fulfill the ambition they end up buying an old European production line and start with a very aging design. It is the most natural thing to do in the 80s and 90s.
The history of FAW Jilin passenger cars actually starts in 1994, when BMW takes over the beleaguered MG Rover. To their dismay, the Germans discover that the Maestro and Montego models are still being made, despite their age and limited quality. BMW wants to get rid of those and so the production line begins a crisscross tour around the world. First it goes to Bulgaria, returns to England and is then sold to the Chinese.
It is now the end of 1997 and remember that the Maestro already first appeared on the market in 1982. The Chinese buyer of the production line is Etsong Tobacco, a cigarette brand of state-owned China Tobacco. At that moment, just about every Chinese wants to start making cars and Etsong establishes its own brand, Etsong Vehicle Manufacturing. The production line will be installed in a new factory in Qingdao (Shandong Province).
Etsong equips the cars with a locally built Toyota engines and sells them under the Lubao name from 1998 onwards. There is an ordinary hatchback and a station wagon/van. Production numbers are, of course, limited. And so Etsong's enthusiasm for the automotive industry disappears just as fast as it popped up. It is a competitive market in which they have no experience whatsoever. And that's when FAW Jilin comes into the picture.
In 2003, FAW Jilin buys the entire Etsong Vehicle Manufacturing company including the factory. The Maestro will remain in production as Lubao, the station wagon is called Jiabao. With that, FAW Jilin's desire to make passenger cars has come true, but they soon discover that they have bought a seriously outdated design. Moreover, parent company FAW has now formed a good relationship with Toyota and a more strategic approach is being considered.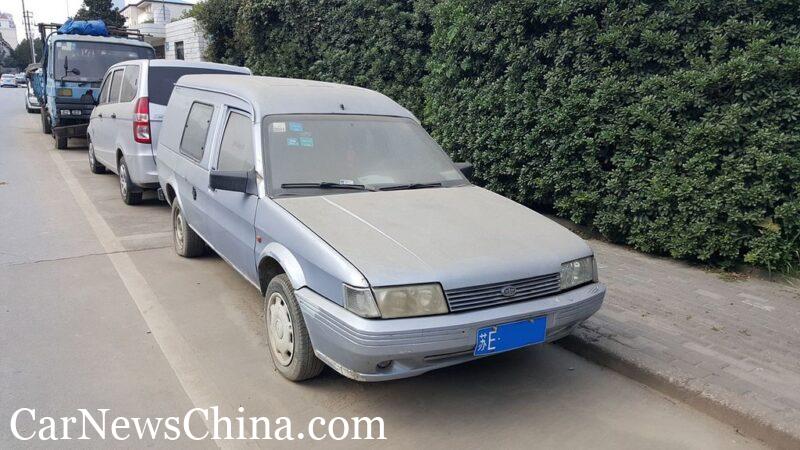 In this new approach FAW Jilin signs a technical collaboration with Daihatsu (a subsidiary of Toyota). The company will make the Daihatsu Xenia for the Chinese market, while the car is also sold as Toyota Avanza. FAW jilin adopts the new brand name Senya for this small off roader. The Senya cars match the wishes of the Chinese customer a lot better than the old Maestro's, so FAW Jilin soon gets tired of its bad English bargain.
You would assume that the Maestro will now silently disappear into oblivion, but old cars die hard in China. FAW Jilin finds a small car factory called Yema in Sichuan province still interested in the cars. Yema buys the production line in 2008 and will continue to produce a variety of models based on the Maestro design for years to come. FAW sells the factory in Qingdao to SAIC, that converts it into an assembly plant for Wuling.
For FAW Jilin, the collaboration with Daihatsu ends in 2010, but Senya cars keep rolling of the production line. For new models FAW Jilin turns to the parent company. Senya introduces cheaper versions of some FAW Bestune crossovers. The backbone of the company, however, remains the minibuses. These are now sold under the Jiabao brand, a remnant from the Maestro period. The open tray versions sell as Jiefang trucks.
When Jilin's Senya slowly loses its relevance in the late 2010s and inspiring new products are not forthcoming, FAW Group sells a 70.5% stake in the company to Shandong Baoya New Energy Vehicles. Like Yudea from the last section, Baoya is one of China's many LSEV manufacturers, trying to break into the car market. The transaction takes place in December 2019 and a few months later production of the Jilin company stops. Presumably to convert the company to a new energy factory, but more than a year later there's still no re-start. Lately a few Senya vehicles have been re-entered in the MIIT catalog, but we will have to wait and see whether enough money can be found to revive Jilin Automobile.
Next week
The return of Hongqi and the emergence of Volkswagen as FAW's first joint venture partner.
Read more Automakers Stories
Every week we publish one exiting article about history of famous Chinese Automakers. Check the ones you haven't read yet.