According to the IThome information, Changan UNI-V iDD has been sent to the dealer's store. The price is 148,900 – 174,000 RMB (22,000 – 27,400 USD). The leaked dealer poster showed that this model would be available in March 2023. As a PHEV, UNI-V iDD improved in appearance and power than its ICE version. In addition, there are two other SUV models in the Changan UNI series: UNI-K and UNI-T.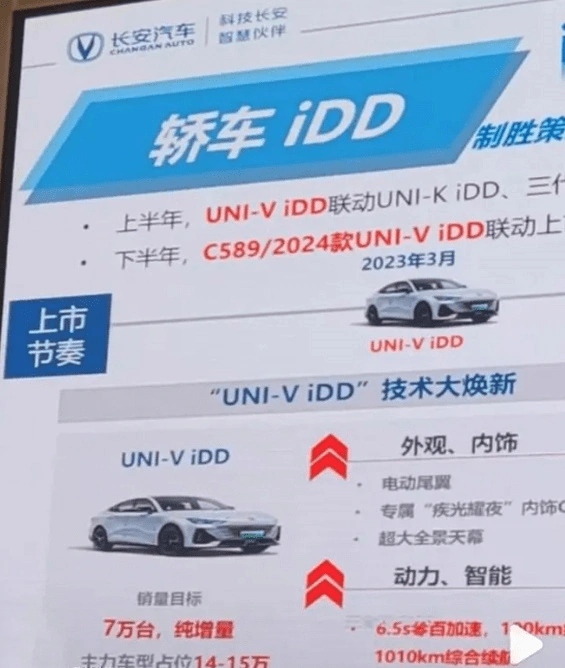 What is UNI-V iDD?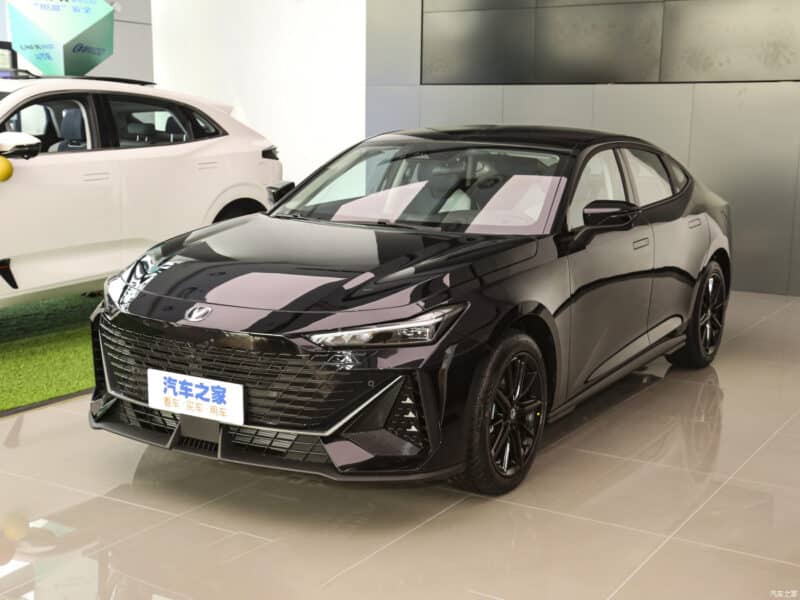 UNI-V is an A-class fuel car of Changan, and UNI-V iDD is its PHEV version. The length, width, and height of the UNI-V iDD body are 4695/1838/1435mm, and the wheelbase is 2750mm. Due to the addition of the electric system, the height is increased by 5mm compared with the ICE version, and the weight is increased from 1400kg to 1680kg.
Power configuration of UNI-V iDD
UNI-V iDD is equipped with the Blue Core iDD hybrid system, and its power is improved compared with the ICE version. The max power is 250 kW (335 hp), and the peak torque is 590Nm. It is equipped with a 1.5L hybrid special engine with a max power of 125 km (167 hp) and a peak torque of 260Nm. It is also equipped with a 125 kW (167 hp) motor with a max torque of 330Nm. The 100km/h acceleration is 6.5s, and the max speed is 220km/h.
In terms of endurance and energy consumption, UNI-V iDD is equipped with 18.4 kWh batteries, with a pure electric endurance of 100 km and a fuel consumption of 4.95L/100km. The total mileage, including fuel, is 1010 km: it supports AC slow and DC fast charging.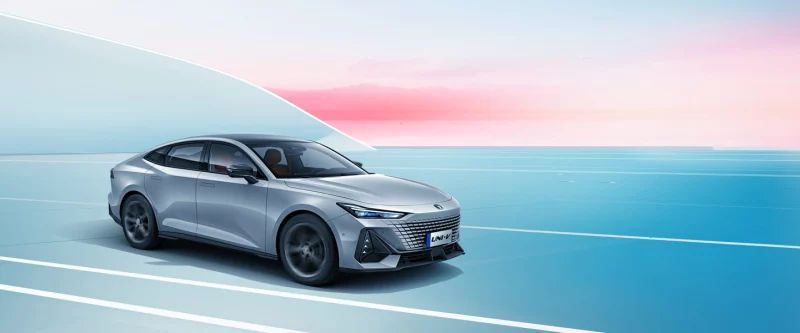 In the market segment of A-class PHEV cars, the biggest competitor of UNI-V iDD is BYD Qin Plus dmi. The latter sold 188,522 vehicles in China in 2022, accounting for more than half of the market segment. As a comparison, the Changan UNI-V ICE version sold 103,457 cars in China in 2022.
| | | |
| --- | --- | --- |
| | Changan UNI-V iDD | BYD Qin Plus dmi |
| Price | 174,000 RMB (22,000 USD) | 153,800 RMB (22,700 USD) |
| Engine displacement | 1.5L | 1.5L |
| Max engine power | 125 KW( 167 hp) | 81 KW (110 hp) |
| Max motor power | 125 KW( 167 hp) | 145 KW (197 hp) |
| Max engine torque | 260 Nm | 135 Nm |
| Max motor torque | 330 Nm | 325 Nm |
| Pure electric endurance | 82 KM (WLTC) | 120 KM (CLTC) |
| Acceleration | 6.5s to 100km/h | 7.3s to 100km/h |
| Fuel consumption | 4.95L/100KM | 3.8L/100KM |
| Length | 4695mm | 4795mm |
| Width | 1838mm | 1837mm |
| Height | 1435mm | 1495mm |
| Wheelbase | 2750mm | 2718mm |
| Weight | 1680kg | 1620kg |
| Sales (2022) | 103,457 (ICE version) | 188,522 |
The max configuration comparison of Changan UNI-V iDD and BYD Qin Plus dmi