Dozens of BYD's premium YangWang U8 were spotted on a truck in China ahead of deliveries starting later this month. U8, which cost over 1 million yuan (137k USD), has already begun mass production and received over 30,000 orders, according to the Shaanxi Province News department.
U8 is a hard-core SUV under BYD's luxurious brand YangWang and BYD's most expensive car ever. The U8 Premium Edition started sales on September 20, when the car was officially launched. The vehicle was initially unveiled in January during the YangWang brand launch night.
Shaanxi Province News department, which reported about the production start, didn't specify if the 30,000 orders were firm or for a refundable deposit. However, we assume those are refundable. On October 8, it was reported U8 received over 4,000 firm orders. On September 26, YangWang U8 was also teased for international markets as BYD Brasil announced it is coming to the country in 2024.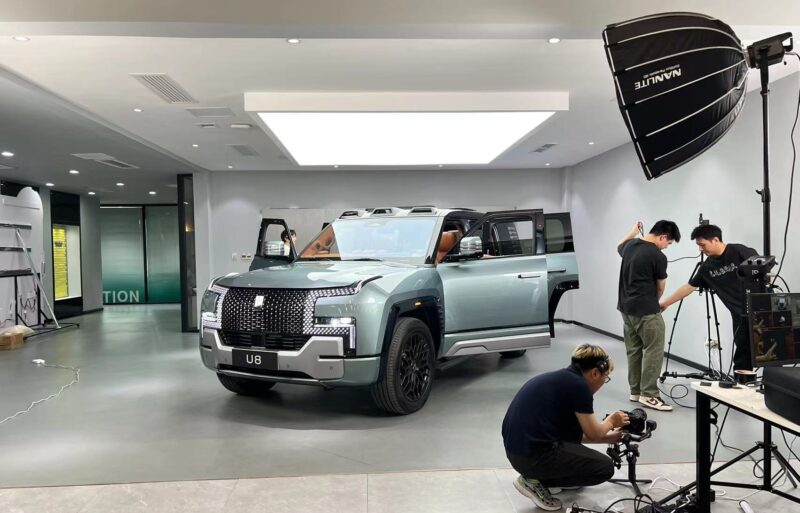 YangWang U8 got the headlines because of its off-road capabilities, such as floating on water for 30 minutes and 360° tank turn. It is a range extender (EREV) with quad electric motors with a combined output of 880 kW (1,197 hp) and an all-wheel drive (AWD). The SUV sells for 1.089 million yuan.
EREV means that the EV is equipped with ICE, which is not connected to wheels but works as a power generator for the battery.
YangWang U8 has a 2.0L turbo ICE range extender, which charges the 49.05 kWh Blade battery with LFP chemistry inside. The CLTC battery range is 180 km, and with a full 75L tank, it is over 1000 km.
BYD puts all the latest tech it has or can buy into U8, so it is equipped with a Disus-P suspension system, Nvidia Drive Orin SoC, with computational power of 508 TOPS and 38 sensors, including three lidars. The acceleration 0-100km/h is 3.6 seconds. U8 also supports DC fast charging up to 110 kW so that the SUV can recharge 30-80% in 18 minutes.
Unlike BYD badged cars, BYD will tap into a direct sales model with the YangWang brand. YangWang has 60 stores under construction in 40 cities around China and plans to open 90 by the year's end. The stores are mainly in shopping malls, which is nothing unusual in China. It was also reported that BYD is taking over premium stores and showrooms of legacy automakers such as Mercedes-Benz, Aston-Martin, and Maserati.
YangWang has two more EVs in its pipeline: the hype-car U9 and the sedan U6, with the lowest drag coefficient among production cars.