State media reports that all Honda's part plants are up and running again. Production of Honda vehicles, which was halted due to lack of parts, will restart tomorrow. Monday say a scuffle in the Foshan factory between workers and trade union officers who tried to get the workers to work. According to the article the officers went back to the factory and apologized. Workers asked an extra 800 rmb per month, Honda said it was willing to pay more but not that much. Negotiations are continuing.
Article from China Daily:
GUANGZHOU – The parts plant of Japan's second-largest automaker, Honda, in South China's Guangdong province resumed operations Wednesday, but negotiations continued over workers' demands for higher pay.
Workers of Nanhai Honda Auto Parts Manufacturing Company, in Foshan city, entered the plant Wednesday morning to work, said a worker surnamed Li.
All the production lines in the plant had resumed operation, but products could not be made before Thursday, forcing Honda's four assembly plants in China to remain closed due to lack of supply of gear-boxes and other accessories from the plant, said Zhu Linjie, a spokesman of the plant's parent company, Honda Motor (China) Investment Co Ltd.
Workers have been on strike since May 17, demanding an increase of 800 yuan per month. Company sources and some workers said both sides were continuing consultation on salary increase.
The plant has more than 1,600 workers, including about 600 interns, who only have several hundred yuan as a "living allowance" and no social security benefits.
Workers said trade union officers Wednesday visited many workshops and apologized for confronting striking workers in a move that led to a scuffle Monday in the plant.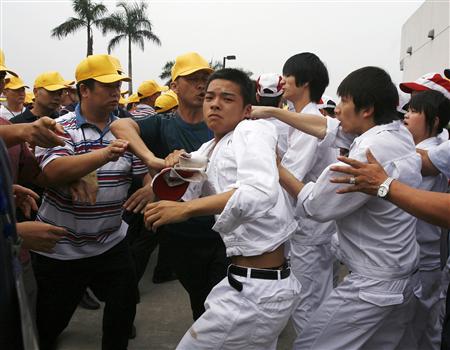 Monday's scuffle in Foshan