The Chevrolet Aveo hatchback and sedan have been officially listed on the Chinese auto market. The Aveo is made in China by the Shanghai-GM joint venture. Interestingly there is no difference in price between the hatchback and sedan, price starts at 81.800 yuan and ends at 118.000 yuan.
GM celebrated the listing with a big party in Shanghai, guest of honor was the beautiful Rosie Huntington from the upcoming Transformers III movie in which the Aveo/Sonic will transform.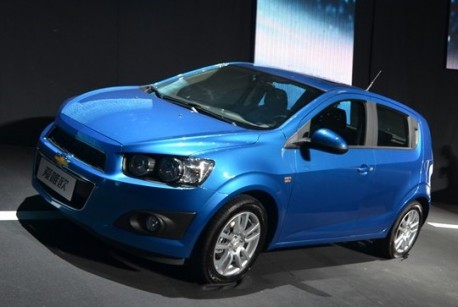 Engines: 1.4 with 103hp and 131nm, 1.6 with 117hp and 150nm. Gearbox: 5-speed manual and six-speed automatic. GM is aiming the new Aveo at young 'n cool people. That's why Rosie came, to make the Chinese car buyer believe that the new Aveo ain't for the old 'n boring like the old car was. The strategy might work with youngsters who are die hard Transformer fans. In China all is big so that group counts for some 25.000 cars. But, then what?