Dongfeng is one of China's biggest vehicle producers. They make cars, cars in joint ventures, trucks and heavy trucks. Dongfeng is also famous for its semi-legal copy of the AMC General Humvee. This time they are at again and this time not legal at all. Target: the famous Mercedes-Benz Unimog. Dongfeng copied, Dongfeng pasted, and here is the v-Tiger or EQ2070FQJ.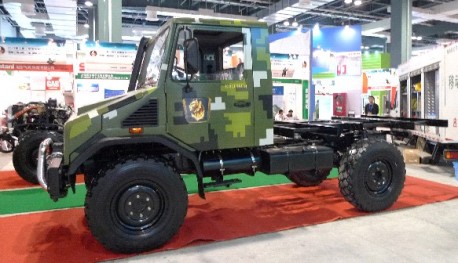 Power comes from a 3.0 4-cylinder diesel with 95kw and 340nm. It is 4×4 and has a curb weight of 3200 kilo. Top speed is 95km/h. It is designed for duty in the army, fire services, forest serviced and for anyone who has to be somewhere far away, like at oil rigs high up in icy mountains.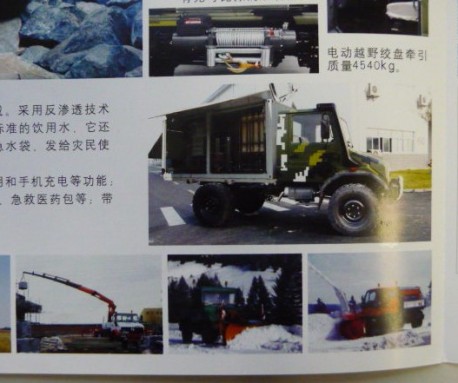 Talking about icy mountains. I saw the v-Tiger at an exhibition in Shanghai. Got me a brochure as well. It shows the v-Tiger as a fire truck, as a construction vehicle, as a military vehicle and on the two pics on the right as a snow truck.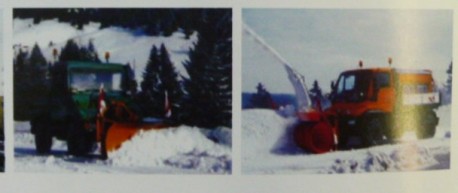 But now… Indeed!, those are actually real Unimogs and the right one is a completely different type. Guess Dongfeng didn't have the time yet to get the v-Tiger up in the snow. Dongfeng: "copy car >> copy pictures >> use copied pictures in brochure for copied car." Approved!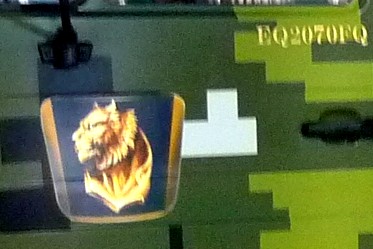 Let the v-Tiger roar free…