When the BYD F0 was designed BYD didn't bother to draw a single line by themselves, instead the just copied the Toyota Aygo. One BYD dealer in Shanghai then decided to make a special-edition BYD F0 and he looked at Japan as well for inspiration. One little cat came swimming across the sea and there is was: the BYD F0 Hello Kitty Edition. In pink for sure, but best is the interior: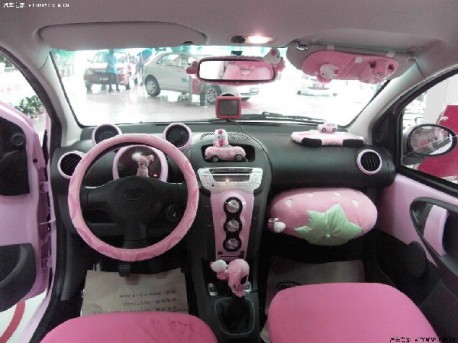 This is just bloody brilliant, us Kitty is everywhere. Hello Kitty on the gearknow ready to be touched by soft female hands. Best is the Hello Kitty pillow on the right, it doubles as an extra airbag because the first one likely won't work.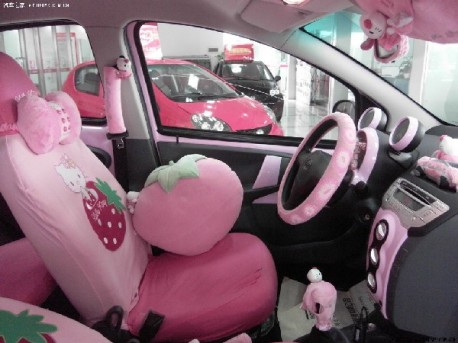 Hello Kitty seat covers, another pillow because those Chinese 'marketing-manager'-girls are so small they can't see over the dash, not even in a F0. Price for all this pretty: 48.000 yuan. A very good deal because price of the standard non-Kitty F0 ranges from 36.900 to 46.900 yuan.
The Shanghai dealer didn't mess with the engine, he thought this kitty quick enough. The F0 is powered by a 1.0 4-cylinder that poops out 50kw and 90nm, good for a claimed top speed of 151km/h.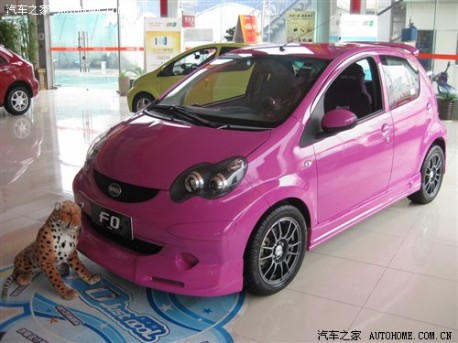 This is another special edition BYD F0, done by the same dealer and actually very nice. Dark-pink and a big bad body-kit including a wing on the back. Only for really fast girls. Price: 49.000 yuan.
Via: Autohome.