Sales of passenger vehicles in China increased by 16.6 percent year-on-year in May, reaching their second-highest point in 17 months and reaffirming analysts' confidence that the industry is recovering.
May saw the sale of 1,176,328 cars, sport utility vehicles, multi-purpose vehicles and minivans, up 2.2 percent from April, the China Passenger Car Association reported on Thursday. That helped produce a year-on-year growth rate of 4.4 percent for the first five months of this year.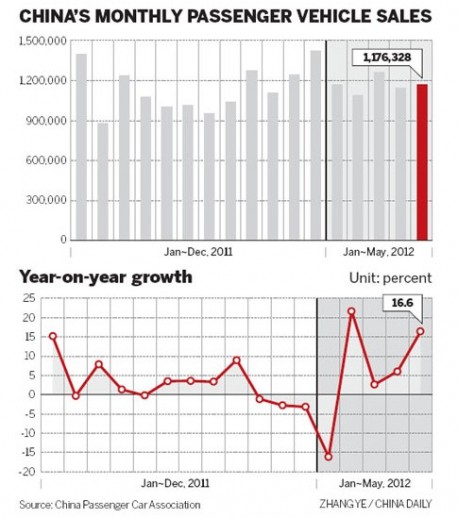 "The high growth is not out of our expectations, as vehicle sales in last May were seriously hit by Japan's earthquake, which reflected on Japanese automakers' sharp production decline amid a parts supply shortage," said Rao Da, secretary-general of the association.
"As for June, although monthly sales will be less than that in May as hot weather keeps some consumers away from showrooms, the market performance will help keep positive growth over last year as a result of the industry rebound."
He said fuel prices might be reduced this month because global oil prices have declined sharply.
"The fuel price cut for two consecutive months will stimulate vehicle sales in June."
Even so, he warned that dealers might have to deal with inventories that had already reached worrisome sizes by the end of May.
China Automobile Dealers Association said the number of vehicles that local dealerships had in stock by the end of the month exceeded what they could sell in two months' time.
According to a survey the association conducted among 500 Dongfeng Nissan Passenger Vehicle Co dealerships throughout the country, the large inventories have squeezed dealers' average gross profit margins to 1 percent, far less than the margins of between 4 percent and 6 percent that are common in the industry.
"Automakers were continuously adding vehicle glut pressure to dealers, as they expanded production capacity aggressively during the market slowdown," Rao said. "The dealers had to undersell the cars through a price war to maintain their cash flow, which led to a decline in profits for some dealerships."
According to a recent study conducted by the consulting firm J.D. Power and Associates, 63 percent of the vehicle dealerships in the world's largest automobile market made profits last year, down from 81 percent a year earlier.
On Tuesday, the Ministry of Finance released a second list of pure electric and hybrid automobiles whose sales will be promoted through taxation policies, a measure that analysts said will encourage purchases of "green" vehicles.
This year, the taxes charged on energy-efficient vehicles that run on older fuel sources will be cut in half and those on new-energy vehicles will be eliminated.
"This combination of stimulus measures for energy-efficient vehicles will not only help the market rebound, but also promote a restructuring of the industry," said Cui Dongshu, deputy secretary-general of China Passenger Car Association.
General Motors, the largest foreign automaker in China, reported it sold 231,183 vehicles in the country in May. That number was up 21.3 percent from the same month last year and 1.7 percent from April of this year.
For the first five months of this year, the US automaker sold a record 1,203,552 vehicles in China, an increase of 11.5 percent year-on-year.
Another US automaker, Ford Motor Co – benefiting from a strong demand for its New Focus model – also reported selling a record number of vehicles in May, 48,608 in total. That number was up 8 percent year-on-year.
Shanghai Volkswagen, a joint venture between Volkswagen AG and China's top automaker SAIC Group Corp, said it sold more than 100,000 vehicles in May, a number up 13.6 percent from the same month last year.
Via: ChinaDaily.