A strong June has ended a solid six-month sales performance by China's passenger vehicle manufacturing industry, with year-on-year growth of 5.6 percent. But analysts warned that the sector still faces an uphill task long-term to maintain targets, if recent automobile sales caps announced in Guangzhou and three other cities are repeated by more cities across the country.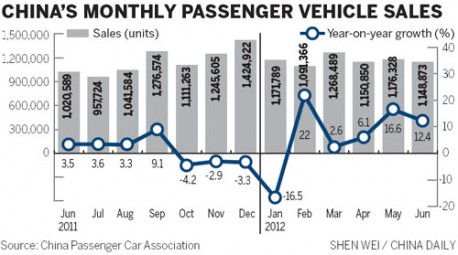 Total national sales of cars, sports utility vehicles, multi-purpose vehicles and minivans reached 7,009,117 units in the first six months in China, boosted by strong monthly sales of 1,148,873 units in June alone, which saw 12.4 percent growth from a year earlier, the China Passenger Car Association revealed on Friday.
"Passenger car sales in July are expected to grow by 15 percent from a waning market performance last July.
"The market recovery in the first half promises higher sales in the next six months," said Rao Da, secretary-general of the association.
"And we still stick to our previous forecast of a 10 percent year-on-year growth for China's passenger vehicle market in 2012. The year's overall automobile sales, including commercial vehicles, are expected to reach 19.8 million units, an increase of around 7 percent on last year."
His optimistic note on China's vehicle market in the second half was echoed by Kevin Wale, president and managing director of the General Motors China Group.
"Despite signs of slowing economic growth in China, demand for General Motors products rose in all key segments in the first half of the year," said Wale. "We expect sales growth to remain steady in the second half, driven by demand in China's interior provinces."
The US conglomerate, also the largest foreign automaker in China by sales, reported a new record market performance for the first half in its biggest country market, on Thursday, as its sales in China from January to June rose 11.3 percent from last year's previous record for the period to 1,417,047 units.
Japanese automaker Mazda Motor Corp said on Friday that its sales of 103,991 units in the first half in China gained only 1 percent from the previous year, while German luxury vehicle brand Audi reported sales of 193,871 cars in its largest market during the same period, a rise of 37.8 percent.
However, the suddenly released car sales curbs by Guangzhou on June 30 has surprised the industry.
Starting from July no more than 10,000 new vehicles in the city will be granted license plates every month, said the local government.
Guangzhou is the fourth city to limit car purchases by clamping down on vehicle registrations, following Beijing, Shanghai and Guiyang in Guizhou province.
Cui Dongshu, deputy secretary-general of China Passenger Car Association, said the car sales curb in Guangzhou will not have "a heavy impact" on domestic vehicle sales in the mid-term.
He added: "We are worried that more cities will follow the trend as environmental and traffic problems worsen in many Chinese big cities."
Jia Xinguang, an independent auto analyst based in Beijing, agreed with Cui.
"The sales cap in Beijing has dragged on national sales by 3 percentage points. If other big cities, like Hangzhou, Tianjin, and Nanjing all follow suit, China's vehicle market will stop its growth in the coming years."
According to auto industry analysis by China International Capital Corp Ltd, the sales curbs in first-tier cities will slow domestic passenger vehicles sales by 3 percent.
"The sales curbs will have a limited impact on total vehicle sales in the short term, however, they will influence market growth in the longer term," said analyst Zhang Hanyi.
"The shrinking market will bring more challenges to China's struggling domestic auto brands," added Jia.
"It will also force the dealerships to think over their future."
Via: ChinaDaily.