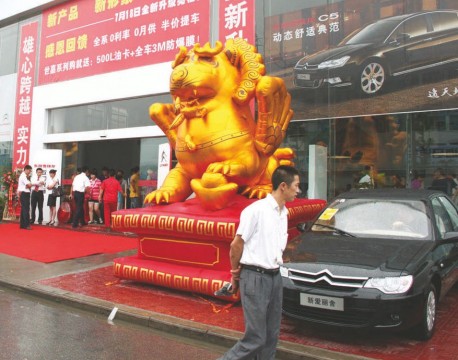 Dongfeng Peugeot Citroen Automobile Company Ltd (Dongfeng-PSA) in central China's Hubei province on Saturday said it sold a record-high 440,000 cars in 2012. In a press release, the 50-50 joint venture between Chinese carmaker Dongfeng Motor Corp and French carmaker PSA Peugeot Citroen said it sold 223,800 Citroen autos and 216,200 Peugeot autos this year.
The joint venture's sales also jumped 8.2 percent year-on-year, outperforming the industry average.
In the first 11 months of 2012, total vehicle sales in the world's largest auto market increased 4.03 percent year-on-year to 17.49 million units, according to the China Association of Automobile Manufacturers.
The boost in sales has been partly attributed to the Diaoyu Islands issue that emerged in mid-September. Anti-Japan sentiment grew in China after the Japanese government's move to "purchase" part of the Diaoyu Islands on September 11. Many Chinese customers have since snubbed Japanese auto brands, opting to buy from European and U.S. brands instead.
Via: ChinaDaily.