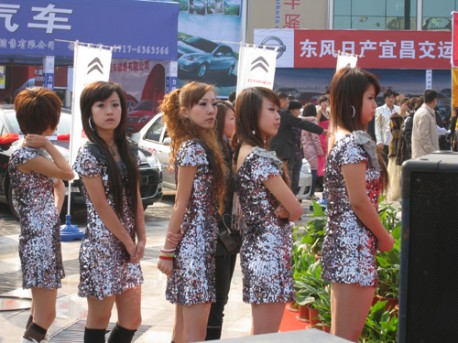 China overtook Europe in vehicle sales in 2012 and is now in pole position after passing the United States in 2009. Sales of passenger vehicles increased 6.8 percent from the previous year to 14.68 million units, the China Passenger Car Association said on Wednesday.
In December alone, passenger vehicle sales jumped 8.6 percent year-on-year to 1.56 million units. European passenger vehicle sales reached 12.5 million units, 1.1 million fewer than a year earlier.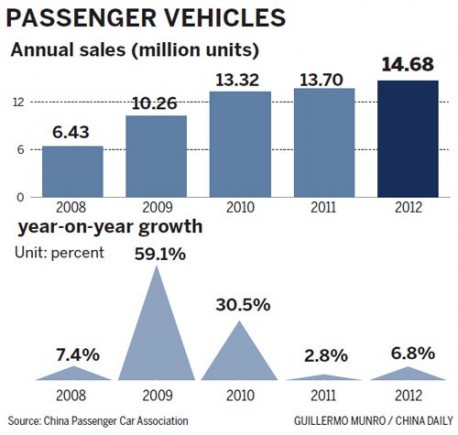 The US registered the best sales growth since 2008, 13 percent year-on-year, but it still lagged just behind the Chinese mainland market after selling 14.5 million units.
Analysts said China's vehicle market will continue to grow.
The market could be as big as Europe and the US combined, Ferdinand Dudenhoeffer, head of vehicle research at the University of Duisburg-Essen, told the German newspaper Sueddeutsche Zeitung.
Rao Da, secretary-general of the China Passenger Car Association, said the market "would probably yield about 30 percent growth year-on-year in January," driven by an expected sales boom in the run-up to Spring Festival.
"Providing there are no more government curbs, the passenger vehicle market could grow 10 percent in 2013."
However, as traffic congestion and environmental pollution are becoming increasingly serious in more Chinese cities, Rao said that he believed the government will take additional measures to slow vehicle sales. "If so, annual growth will be 5 percent."
Jia Xinguang, a market analyst in Beijing, said he predicts 8 percent growth year-on-year in 2013, in what he described as "low but healthy development".
Thomas McGuckin, a partner in PricewaterhouseCoopers' global automotive practice and responsible for the Asia-Pacific vehicle market, was more optimistic about China's market development in 2013.
"Asia-Pacific car sales are expected to exceed 10 percent year-on-year," he said.
Although growth in China's vehicle market slowed down in 2011 and 2012, car capacity still increased rapidly from 90 million to 120 million units. However, there may be problems on the road ahead, Rao said.
"Traffic will be a big challenge for the government. Based on an average annual growth of 5.5 percent over the next decade, China's vehicle capacity will pass 270 million in 2020, triple the number of 2010, while the country only plans to expand roads by no more than 30 percent during the same period," said Rao.
BMW said that its sales, including the Rolls-Royce and Mini brands, surged 40 percent from a year earlier to 326,444 units in 2012, backed by record monthly growth of 73 percent in December.
Volkswagen's premium brand Audi also reported a 29.6 percent year-on-year growth in 2012 to a record 405,838 vehicles.
Both of the German luxury brands see China as their largest market.
China also became Jaguar Land Rover's top market in 2012, as the British premium brand delivered 73,347 imported vehicles to Chinese consumers, 74 percent more than in 2011.
US automaker Ford said that its China sales performance boomed 21 percent from 2011 to a total of 626,616 vehicles last year, and General Motors local joint ventures managed to sell 2.85 million vehicles in 2012, representing an increase of 14.7 percent.
All Japanese automakers reported negative growth in China in 2012.
Via: ChinaDaily.