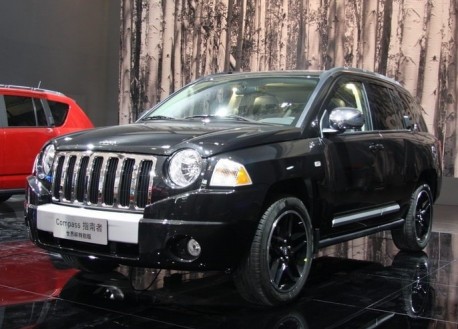 Fiat and Chrysler Group said today that they have reached an agreement with Guangzhou Automobile Group to build Jeeps in China for sale to Chinese consumers, the Jeeps will be made by the existing Guangzhou-Fiat joint venture. Under the agreement with Guangzhou, Fiat and the Chinese automaker hope to begin building a compact Jeep SUV in China for Chrysler for sale in China.
Mike Manley, president and CEO of Jeep and COO of Fiat's Asia Pacific region, said the agreement with Guangzhou still needs the approval of the Chinese government, but he expects production to begin by the end of 2014. The agreement means Jeep production is coming back to China after five years, the Beijing-Jeep joint venture that made the Cherokee and Grand Cherokee was disbanded in 2009.
"From my perspective, we need to get to production as soon as possible," Manley told the Free Press today.
Eventually, Manley hopes to build several Jeep models in China.
"Once you start localizing vehicles it opens up volume that previously has not been available to you because you have been an import brand," Manley said. "Now that comes with ramifications for growing a dealer body, so you want to be sure you have a long range product plan."
The agreement with Guangzhou was signed today at Chrysler's headquarters in Auburn Hills by Zeng Qinghong, general manager of GAC Group and Manley. The news was announced in conjunction with Guangzhou's press conference at the 2013 North American International Auto Show in Detroit.
Guangzhou, which already has a joint venture with Chrysler majority-owner Fiat, began building the Fiat Viaggio in China last September.
The plant has initial annual capacity of 140,000 cars and is capable of eventually assembling 500,000 vehicles per year.
Qinghong said the interest among Chinese consumers to buy Jeeps should increase after Guangzhou begins production. Last year, Jeep sold about 50,000 SUVs in China.
"After localization (of production), the demand for Jeep in China will get even more," Qinghong told the Free Press today.
"So we will work with Chrysler to make these products in China. We are very confident about sales growth."
News of the possible agreement was already generating political debate on twitter and on the Internet before the deal was announced.
"I told you so," Donald Trump tweeted earlier today.
Trump was referring to a political debate fueled in October and November by Republican Presidential candidate Mitt Romney.
Romney, in a speech in Ohio, said he read a story that said Jeep would move production to China. In a political ad days later Romney suggested that people in Ohio would lose their jobs if Jeep added production in China.
In fact, Chrysler added 1,800 workers to its plant in Belvidere, Ill., last summer to build the Dodge Dart, Jeep Compass and Jeep Patriot.
In October, Chrysler added 1,100 workers at its plant in Detroit to build Jeep Grand Cherokees and next year the company plans to add 1,105 workers at its plant in Toledo to build the replacement for the Jeep Liberty later this year.
"I think we have been very clear on this point that we will not be moving jobs from the U.S. to China," Manley said. "Without local production, the volume we will get is not available to us."
Via: DetroitFreePress.