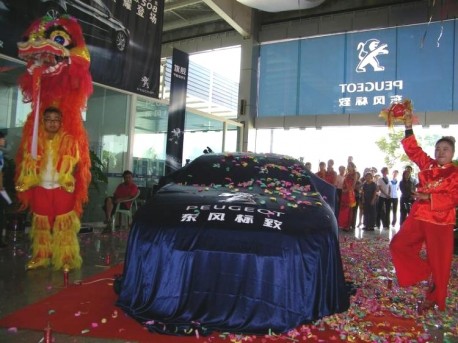 Despite slowing growth and fierce competition in China's auto market, PSA Peugeot Citroen's joint venture with Dongfeng Motor Corp plans to double sales of Peugeot-branded vehicles in the next three years.
The dual-brand joint venture making both Peugeot and Citroen vehicles announced the ambitious mid-term plan for its Peugeot brand last week that aims to bring six all-new models to the Chinese market in the next three years and double the 216,000 vehicles sold last year.
The plan also calls for ambitious expansion of its sales and service network from the current 300-odd dealerships to 500 in 2015 serving 85 percent of the nation's cities.
In addition, the blueprint sets a target for Peugeot to be among the top five in customer satisfaction in both showroom experience and after-sales services.
The business plan was released at the launch ceremony for the brand's first locally made SUV, the Dongfeng Peugeot 3008, last week in Chengdu.
"China is the most important market for the Peugeot brand," Maxime Picat, managing director for the Peugeot brand at PSA, said in a speech delivered in fluent Chinese.
The French company is struggling in its home market Europe, reporting declining demand amid the euro crisis.
Global sales of the second-largest automaker in Europe last year totaled 2.82 million vehicles, an 8.8 percent decrease from 2011, mainly dragged down by sluggish sales in Europe, especially in southern Europe where the carmaker has a particularly large presence.
China proved to be a bright spot as sales increased 9.2 percent last year to 442,000 units, some 216,000 Peugeots and 226,000 Citroens. But the performance still lagged well behind rivals from Germany, the US, Japan and South Korea.
The newly launched Dongfeng Peugeot 3008 SUV is expected to help drive sales by grabbing a share of the fastest-growing segment of the Chinese market.
General Motors launched its locally made Buick Encore SUV in China three months ago to attract more young buyers. Ford and Skoda are also preparing to roll out localized products to join the SUV race.
The 3008 is available with 2.0-liter natural-aspirated or 1.6-liter turbo powered engines. The turbo is the latest engine co-developed by PSA and BMW. The 1.6-liter version comes equipped with an automatic transmission while the 2.0-liter version offers both manual and automatic gearboxes.
The compact SUV sells from 159,700 yuan to 214,700 yuan, going head to head with the Hyundai ix35, Nissan Qashqai, Buick Encore, Kia Sportage R and Mitsubishi ASX.
Dongfeng Peugeot also produces the Peugeot 207, 208, 307, 308, 408 and 508 as well as the Citroen C2, C4, C5 and Elysee.
PSA Peugeot Citroen has another partnership, with Chang'an Automobile Group, which plans to make the Citroen DS series cars in the second half of this year in Shenzhen.
Via: ChinaDaily.