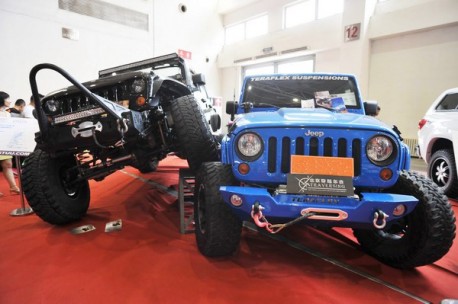 Guangzhou Automobile Group has signed an agreement with Italian manufacturer Fiat SpA and its Chrysler Group LLC subsidiary to build and sell more vehicles, including Jeeps, in China. The companies said their deal was signed at Chrysler's headquarters in Detroit on Tuesday, during the North American International Auto Show.
A joint venture involving GAC, Fiat and Chrysler already builds the Fiat Viaggio and distributes models such as the Fiat 500 subcompact, Freemont and Bravo in China, and the production of more models is planned under their new agreement.
Various Jeep models are already sold in China, including the Grand Cherokee, Wrangler and Compass, but all are imported.
"This agreement is another milestone in our partnership with Fiat and Chrysler Group," said GAC General Manager Zeng Qinghong in a statement.
"It definitely creates the basis for our JV to reach very ambitious objectives in the Chinese market."
Details about which Jeep model might be built, or when, were not disclosed. However, Zeng told reporters that the company hopes production will begin next year, as there is increased demand for the Jeep brand.
Mike Manley, president of Jeep and Asia-Pacific chief operating officer for Fiat, was quoted by the Detroit Free Press as saying he expected production to begin by the end of 2014.
Manley said in a statement that an expansion of the agreement would "allow us to unleash the potential of both our Fiat and Chrysler brands in China".
Aaron Foley, associate editor of Detroit-based WardsAuto, an industry-information website, said the appeal of Jeeps to Chinese buyers is part of a trend toward luxury and premium brands.
"The Grand Cherokee is Jeep's top-of-the-line SUV and does well in China.
"But Jeep needs an entry-level vehicle for non-premium buyers. Rather than import entry-level vehicles from the US, it makes more financial sense to build and distribute in China," he said.
As the majority owner of Chrysler, Fiat is not only looking to expand Chrysler's brand portfolio worldwide, but also boost the Italian company's own profits, Foley said.
Given the weak European market, "the chance to develop in China allows Fiat to expand in Asia", developing Jeep as a global brand.
During the Detroit show GAC officials showed three of the company's vehicles now built under its Trumpchi brand, but Zeng Qinghong said there is no plan to sell them in the US.
Via: ChinaDaily.