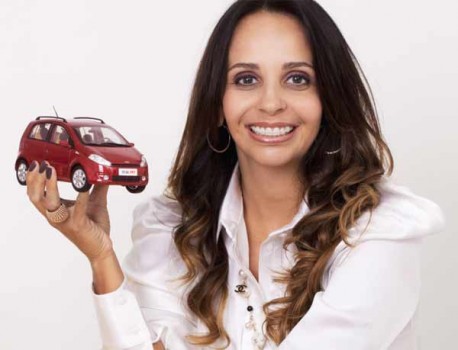 China's vehicle exports topped the one-million mark for the first time in 2012. The latest statistics from China Association of Automobile Manufacturers show that the country delivered a total of 1,056,100 units abroad in 2012, a 29.7 percent rise on 2011.
Though the year-on-year growth slowed to 30 percent from 50 percent in 2011, the rate is still much higher than the 4.3 percent increase for the domestic market. Passenger cars accounted for 45 percent of the exports while trucks accounted for 27.9 percent, said the association.
The figures mean that China's vehicle exports have increased by an average of 46.3 percent year-on-year since 2001, when there were just 19,000 units exported.
Chinese automakers Chery Automobile Co Ltd and Zhejiang Geely Holding Group both saw exports of over 100,000 units in 2012, making them the top exporters, followed by Great Wall Motors Co Ltd, SAIC Motor Corp Ltd and Chongqing Lifan Industry (Group) Co.
Statistics from the General Administration of Customs show that in the first 11 months of last year, the revenues of China's total vehicle exports increased 8.6 percent year-on-year to $67.82 billion.
During 2012, China's domestic automobile sales jumped 4.3 percent over the previous year to 19.31 million units.
Within those sales, total sales of China's homegrown passenger vehicles stood at 6.49 million units, accounting for 41.9 percent of the sector.
The share of domestic brands in the passenger vehicle market dropped by 0.4 percentage point from a year earlier.
Analysts said the slowing market at home had forced many Chinese carmakers to look abroad.
But Zhao Ying, a professor at the Institute of Industrial Economics of the Chinese Academy of Social Sciences, said that the latest export figures showed that domestic brands had started increasing their profile and reputation globally, and that further overseas expansion will naturally mean they will raise their quality standards and their levels of technology.
"These rapidly increasing overseas sales should emphasize the growing importance of exports in their long-term development strategies," said Zhao.
Anhui-based Chery, which has maintained its leadership in vehicle exports among Chinese automakers for the past seven years, said that it expects its overseas sales to surpass 200,000 units in 2012.
During the first 10 months of last year, the company had exported more than 164,000 vehicles to more than 80 countries.
It had also established 17 manufacturing bases in 15 countries in five continents by the end of 2012.
Chery's exports have surged by 163 percent annually on average since 2001 to 160,200 units in 2011.
China's privately owned automaker Geely said that its exports surged 164 percent year-on-year in 2012, making it one of the fastest-growing players in the sector.
Geely, the parent of Swedish luxury brand Volvo, exported 100,300 units overseas during the year, including 11,000 units in December alone.
The company said that 40 percent of its total exports were attributed to its premium brand Emgrand, with sales of more than 40,000 units overseas.
Zhao Ying added that he considers the current booming overseas sales as just the start, given the ambitions of many companies to expand their businesses into fast-developing countries, such as Russia, Algeria, Iraq, Iran and Chile.
The establishment of manufacturing bases in many overseas markets will help increase Chinese auto sales abroad.
Chery, Geely, Jianghuai Automobile Co Ltd, Beiqi Foton Motor Co Ltd and Chang'an Automobile Group all have plans to build production bases in Brazil, for example, which is considered the world's fourth-largest automobile market.
Via: ChinaDaily.