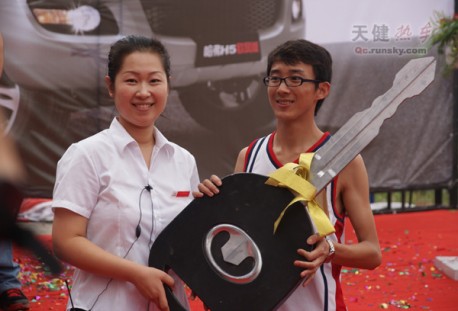 Over a decade after it first hit the market, the Haval SUV sub-brand from Great Wall Motors will become an independent badge with its own marketing and sales network in the first half of this year, said company president Wang Fengying.
"We have been preparing an independent network for the Haval. The final plan will be released during the Shanghai Auto Show in April," said Wang, noting the brand will be positioned to a higher end of the auto segment.
Its latest model, the H8, made its world premiere at the Guangzhou Auto Show in November. Likely priced between 180,000 yuan (about $28,708) and 200,000 yuan, it is expected to go on sale by the end of the year, said the company.
Another new SUV model called the H2 will also be added to the Haval portfolio. All its models will be made at Great Wall's Tianjin plant, said the company. According to Shang Yugui, deputy sales manager at Great Wall, the rise to a higher consumer segment is a natural fit for the Haval brand.
Despite slowing growth in China's auto market last year – especially for domestic brands – sales by Great Wall increased 28 percent to 620,000 vehicles.
Best seller
The Haval SUV family sold 280,000 units last year, a 71 percent increase over 2011. Its H6 was the best selling SUV model in China in each of the final four months of 2012.
The company's recently released annual report showed that the automaker based in Baoding, Hebei province – which started operations making pickup trucks – had a net revenue of more than 5.7 billion yuan in 2012, an increase 62.6 percent from a year ago.
By the end of the year, the carmaker's assets reached 42.58 billion yuan up 28.5 percent from 2011.
Via: ChinaDaily.