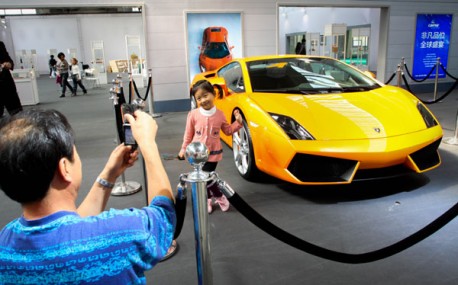 China is expected to become the world's largest premium car market, overtaking the United States and selling more than 2.3 million premium cars by 2016, according to a report released on Monday by McKinsey & Co.
The market for premium cars in China has accelerated by 36 percent a year over the past decade, against 26 percent annual growth in the overall Chinese passenger vehicle market during the same period.
Sales of premium cars in China reached 1.25 million vehicles in 2012, making it the world's second-biggest market after the US. McKinsey highlighted 23 top brands as "premium", including Acura, Aston Martin, Audi, Bentley and BMW.
Its report forecasts China's premium car market to grow at an annual rate of 12 percent by selling 3 million premium cars a year by 2020, compared with 8 percent growth for the overall passenger vehicle market.
A fourth of the 1,200 premium car buyers in China who participated in McKinsey's survey said they are willing to spend more on a car because they are confident in their career and business prospects.
"The number of premium car buyers in China, who are optimistic about their future is increasing rapidly," said Sha Sha, a partner in McKinsey's Shanghai office and co-author of the report.
The research shows that 80 percent of Chinese premium car owners are considered "affluent", defined as consumers with annual disposable household income of more than 200,000 yuan ($32,100).
The incomes of premium car owners surveyed by McKinsey exceeded this threshold level, while the weighted average of annual household disposable income of all surveyed families was 450,000 yuan.
By 2020, there will be 23 million affluent urban households with a compound annual growth rate of 16 percent in China — 7 percent of the country's population and roughly equal to the total number of households in the United Kingdom today, the report said.
It showed that 30 percent of respondents cited "reflection of social status" as the top reason to upgrade to a premium car, while 27 percent cited "self-indulgence".
In addition, the report also said there is the emergence of an entry-level group of potential premium car consumers, called the "new mainstream" households with annual disposable income of 100,000 to 200,000 yuan.
"The new mainstream households care more about style, brand and outward appearance than more affluent consumers, who tend to value technology and vehicle performance," said Sha.
Zheng Shengtao, chairman of the printing and packaging company Zhejiang Sunlead Group Ltd, a company in Wenzhou, owns a stable of luxury cars including a Rolls-Royce and Bentley.
"Owning a car with a well-known brand like Rolls-Royce is a symbol of wealth and reputation for the majority of businessmen," said Zheng, adding that he considers a car as important as his clothes and other accessories.
Yu Kan, a 27-year-old who works in a family business in Shanghai, said he bought his BMW two years ago because of the power of the engine.
"Most young buyers of branded cars like me are keen to get the best possible performance, while the good looks and modern style of the vehicles are also very important," said Yu.
The report said 300 cities will have consumers with sufficient household income to buy premium cars by 2020, up from about 100 cities today.
"In the battle for premium car market share, it is increasingly important to offer more value to customers, differentiate models along key emotional attributes, and prepare to ramp up market presence in China's fast-growing lower-tier cities", added Sha.
To meet growing demand for quality brands, auto manufacturers are also introducing personalized products to the premium car market in China.
Paul Gao, a partner in the Shanghai office and co-author of the report, said: "As consumer preferences continue to diversify, premium automakers may need to further localize vehicle specifications, and even nurture indigenous Chinese premium brands with their joint venture partners to offer China-specific car models at appropriate prices."
Via: ChinaDaily