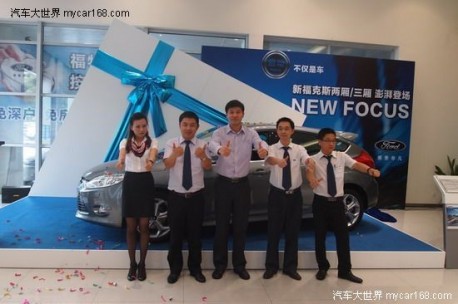 Ford and its joint ventures in China sold 43,642 vehicles in the country in February, up 7% from a year earlier, in spite of the weeklong Lunar New Year holiday during which showroom visits typically drop sharply.
In the first two months of the year, sales of Ford-brand cars surged 46% on year to 105,209 units, thanks to strong demand for the Ford Focus, the U.S. car maker said in a statement Wednesday.
In February, sales at Changan Ford Automobile Co., a 50-50 joint venture between Ford and Chongqing Changan Automobile Co., rose 39% on-year to 29,389 units. Jiangling Motors Corp., in which Ford owns a 30% stake, sold 13,692 units, down 27% from a year earlier.
Ford also sells U.S. imported passenger cars in China, but it didn't provide a breakdown for such sales in the statement.
The company said it will continue to aggressively expand its range of models on offer in China in the coming weeks, bringing to market the EcoSport–a compact urban SUV–as well as the Explorer, one of the world's most iconic and best-selling SUVs.
By 2015, Ford and its partners will introduce a total of 15 new vehicles to the Chinese market, it said in the statement.
Via: MarketWatch.