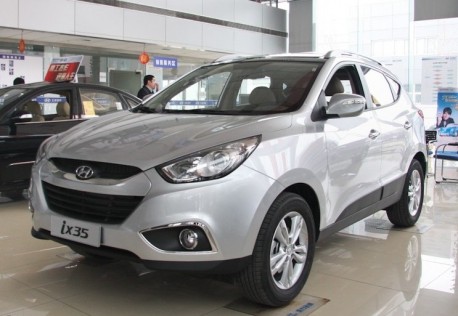 China Business News (article in Chinese) has found that certain car models from a Hyundai 4S dealership in Beijing are equipped with steel fuel tanks, instead of plastic ones, the mainstay for light vehicles. A manager from the Beijing Hyundai 4S dealership confirmed that the Hyundai Tucson and Hyundai ix35 are equipped with steel fuel tanks.
A Beijing Hyundai Motor Company public relations staff member said that Hyundai designers pick different tanks to match different models. Both steel tanks and plastic tanks have their pros and cons.
He said the Elantra 2012, some Verna models and the New SantaFe use plastic fuel tanks. The types of tanks adopted by other models have not yet been confirmed.
Generally, plastic tanks are considered safer in crashes because they are seamless and thus not prone to failures in the vulnerable seam areas. Steel tanks are more likely to crack and deform. An oil spill from steel tanks may cause sparks and explosions during a collision, according to Fan Cheng, an expert from the car industry.
"To replace plastic tanks with steel tanks is very likely a cost-saving measure," manager of the Hyundai dealership said.
Since the mid-1980s, western automakers have been displacing steel fuel tanks with plastic ones, as plastic ones meet higher standards in permeability, weight, packaging, safety, and cost. During the 1993 model year, approximately 2.7-3 million cars and trucks built in North America used nonmetallic tanks. This represents 22 to 25 percent of the market, a significant increase of over 16 percent in 1990.
Many carmakers, including Faw-Volswagen, Shanghai Volswagen, FAW Toyota, Nissan, Dongfeng Peugeot and Chang'an Ford Mazda, adopt plastic tanks, the China Business News report said.
Via: ChinaDaily.