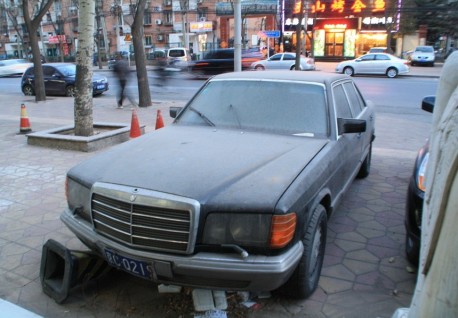 A sadly abandoned W126 Mercedes-Benz 500 SEL, seen by reader Stefan M. in Beijing, thank you for the pictures! The vehicle was found in north west Beijing, parked in front of a closed shop, as if the owner of all left his work and his car, the latter of course, being much worse. The fine old Benz is covered under a thick layer of dust, air in tires is almost gone completely, and horrible people nicked the Benz-ornament from toppada grille. Poor good car!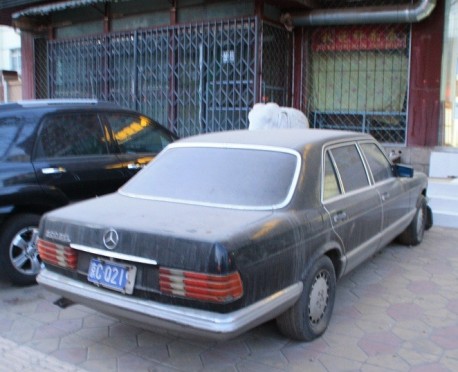 The W126 Mercedes-Benz S-Class was made from 1979 until 1993, the 500 SEL was produced from 1980 until 1991. The 500 SEL was powered by a mighty 5.0 liter V8, in its most powerful configuration good for 261hp and 401nm. Car on pic seems slowly falling apart, check that bumper going to the floor… Still, this great Benz seems savable. There isn's much rust visible, thanks to Beijing's desert-dry climate, and the engine can basically take anything. Will there ever be, a savior..?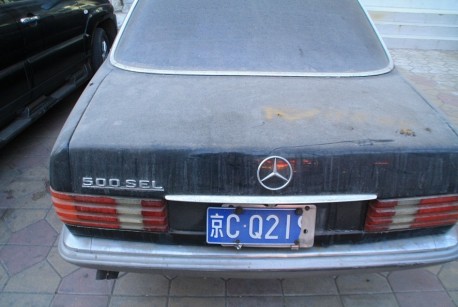 Nobody will notice that plate has been doctored with! Time now for our famous China-W126 Mercedes-Benz S-Class Collection™: chery red, US-spec 560 SEL, sporty 560 SEL, S280, really stretched, 500 SEL, 300SE, and another abandoned.