An extremely smooth Mercedes-Benz W126 560 SEL S-class seen on a car parts market in Beijing. This fantastic car was in perfect working order and slightly pimped with tires a few sizes too large. The 560 SEL was the biggest and strongest W126 ever made, the 'L' stands for 'lang' meaning 'long', and long it was; the SEL was stretched by 14 centimeter to a massive 5.160 meter.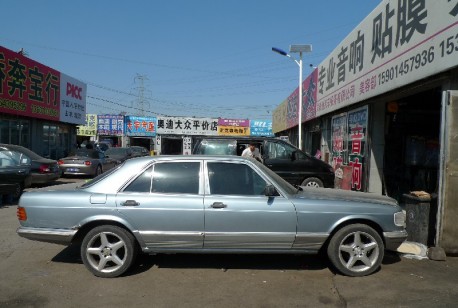 Look at those tires! Far too big and not too good for a decent car like the 560 SEL, still, I kinda like it… The engine was a miracle. 5.6 liter V8, good for 268hp and a massive 421nm, top speed was claimed at 250km/h. The W126 was made from 1979 until 1992 and it was never officially exported to China. Some cars were bought by the Chinese government, some others came in via diplomatic channels, and yet others were bought by foreign-owned companies which were allowed to import their own cars from the 1980's until the late 1990's. This particular Benz is such a car, easily recognizable by its black license plates.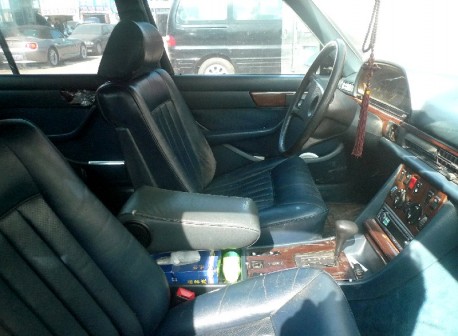 Interior loox a bit tired. Parts are hard to find in China so if something breaks you can either have it fixed cheaply but badly on markets like these or import very expensive parts from abroad. Sadly, the owner of this 560 SEL changed the original radio/casette player for a very crappy after market CD player.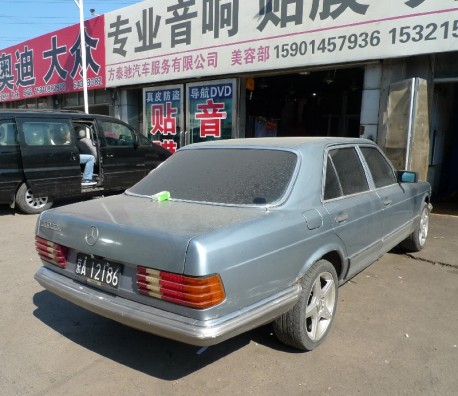 We are always on the lookout for these beautiful old Benzen so we got a small but extremely precious W126 collection: S280, really stretched, 500 SEL, 300SE, and abandoned.  May there be many more hidden around China! We will, find them.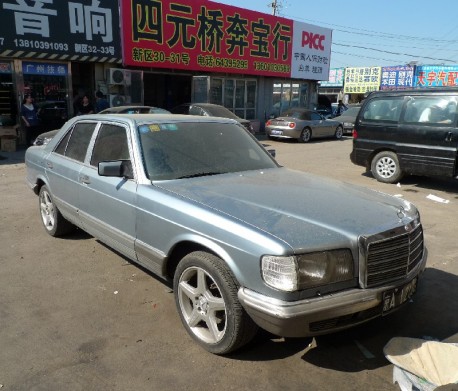 Wadda great car!