Chinese media say the new Chery A4 won't be called Chery A4. Instead, they say, it will be called 'Arrizo' in English and 'Rui XX' in Chinese, where XX will be replaced by an identifier. 'Rui' is the second syllable of Chery's Chinese name; QiRui. So that'll be a Qirui Rui XX. Sounds all very fancy but we are not so sure. On spy shots dated earlier this month the A4-badge was clearly visible on the vehicles. Or was Chery trying to fool us? Chery being Chery everything is possible…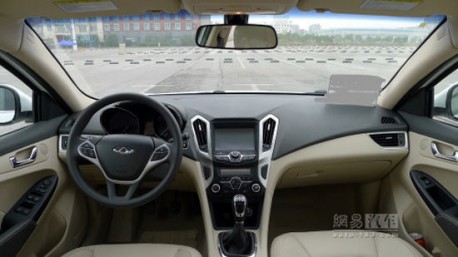 Best shot of the dashboard so far. Funky lines and a big screen. Manual gearbox here.
The Chery A4, as we will continue to call it for now, was expected to debut on the Shanghai Auto Show last month but didn't show, instead Chery showed the Alpha 7 concept previewing the A4.
The production version will be launched on the Chinese auto market late this year, priced from 110.000 to 160.000 yuan. Power will come from a 1.6 with 126hp and 160nm, mated to a 5-speed manual or a CVT. Chery is still working on a 1.4 turbo for the A4 but that engine won't be available at launch. Size: 4650/1820/1480, wheelbase is 2700.