On Saturday I went to the Beijing Tuning Street, a full block full with car tuning shops. It was there that I met this sleek and very tuned Toyota 86. The license plate reads 3FT86, 'FT' referring to the Toyota FT86 Concept which debuted in 2009, and absolutely the coolest license plate we have seen in China on a 86 so far. Note tissues on the ground next to driver's door. The owner must love his little Toyota a lot.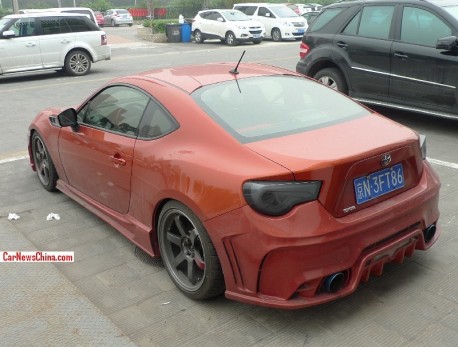 The red sportsmachine was sexed up considerably with a fatass body kit, giant exhaust pipes, black rear lights, sporty wheels and matte black 6-spoke alloys. The wheels seem a bit on the small side for this particular vehicle. The Toyota 86 was launched on the Chinese car market in March, price starts at 269.000 yuan and ends at 279.000 yuan. Power comes from a  four-cylinder boxer engine with 200hp and 205nm, but this red monster had over 300 horses, a shop-worker said.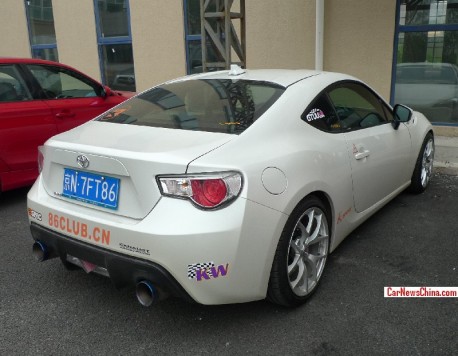 Amazingly, just a few hundred meters down the Tuning Street I found yet another tuned Toyota 86 with a License, this one with 7FT86. It's almost the same as 3FT86! Hard to say which is best, so I go for a draw. The white car comes with a much more subtle body kit than the red car, but biggest best are the bigger wheels which change the appearance of the 86 by almost a hundred percent. The website 86club.cn is full with fine modified Chinese eighty-sixes, so have a click around.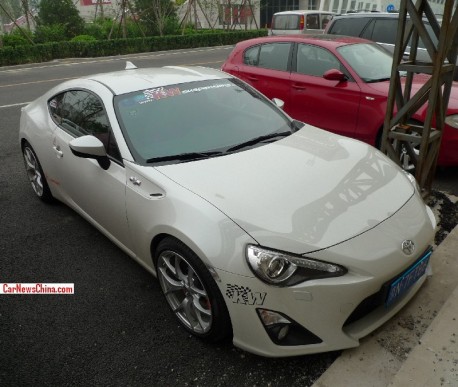 This was only the first time I met the 86 on the road myself. It is a very pretty car but I was amazed by the sheer size of the mirrors that wouldn't be out of place on a giant truck. Waddis there to see?!