A very flashy Mercedes-Benz E300 Convertible, seen in the great city of Wuhan in Hubei Province. The good E was slightly pimped with a giant ornament on the middle of the bonnet, featuring Benz logos in silver and gold, and one big example in the middle wearing a golden crown. Kitch is Glorious. The job at the front was finished by four LED-bars in the grille. Not impressed? Wait for the back…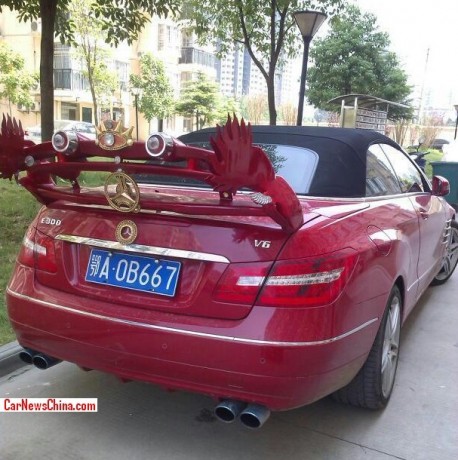 A giant double-layered wing with dragon-like figurines on each side and jet-like lights on each side of another golden crown, sitting above a golden Benz logo which sits above another golden Benz logo. The job at the back was finished by a fake V6-badge. Great work on a great car.
The Mercedes-Benz E300 Convertible is powered by a 3.0 V6 with 228hp and 300nm. The rear wing on this particular example likely ads another hundred horses. The E Convertible is imported into China, price starts at a steep 745.000 yuan.