Just seen on the Third Ring Road in Beijing; a Porsche Cayenne so shiny blue that she lightened the road. This indeed is only possibly on a very clear and sunny day, which it was, which is rare. I sat in a taxi and the driver got very excited, saying the "paint" was blinding him. I explained it was a wrap…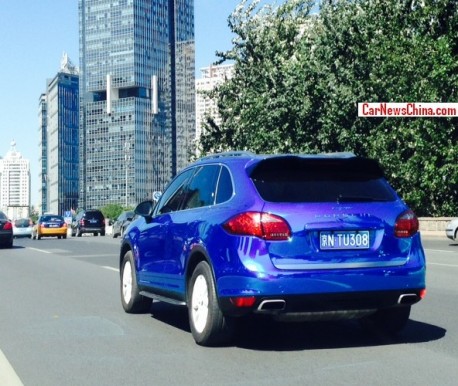 … of the very highest quality that was perfectly applied over the mirrors and bumpers, and with the Porsche logo on the back covered too. The super shiny SUV is further sexed up by blue tinted windows and white alloys that contract nicely with shiny blue. Wadda brilliant piece of modifying art!
The Porsche Cayenne is by far the most popular Porsche in China, and buyers love to make it better. Check our China-Porsche Cayenne Collection™: Mansory 958, canary yellow, Luma CLR 558 GT, TechArt Magnum, baby blue, Hamann Guardian, a fish, pink, body kit, police car, matte black, broken with semi-naked girls, very pretty, Hamann Guardian,  stretched, pink, in gold, another stretched, in orange, with dog-pee, and French.