An extremely speedy brown-orange Porsche Cayenne TechArt Magnum, seen parked in front of the gigantic 'China Import and Export Fair Pazhou Complex' in the great city of Guangzhou in Guangdong Province. The TechArt Magnum takes modification to the extreme, the good Cayenne is made far more sexy with a fatass body kit including an all-new front, a big wing at the back, and very wide wheel arches.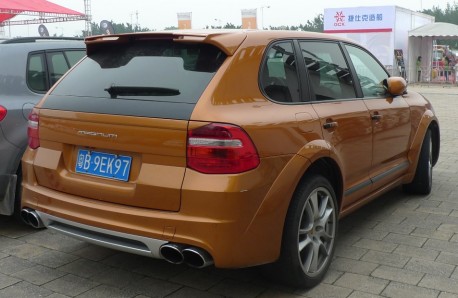 Best changes however are made under the bonnet. The Porsche V8 turbo is pimped up to a manic 680hp and 900nm, good for a 300 km/h top speed, a 0-100 of 4.2 seconds and a 0-200 of only 14.2 seconds. Fast SUV's are very popular in China, but even the fastest factory cars are not fast enough for most buyers. Tuners like TechArt and Hamann are having a very good time in China, and the more power they offer the better they sell. But not everybody in China likes the Magnum…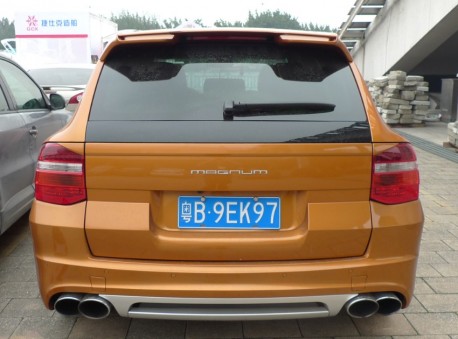 TechArt-desigined exhaust system, and 'Magnum' is just one of the best names for a car, ever.