A very speedy Lumma CLR 558 GT Porsche Cayenne in yellow, seen in the great city of Xi'an in Shaanxi Province, capital of China's extremely rich coal mining area. The Lumma CLR 558 GT has been sexed up with a fatass body kit including an all-new front, giant 21 inch wheels, and finished with a fine mustard yellow paint job.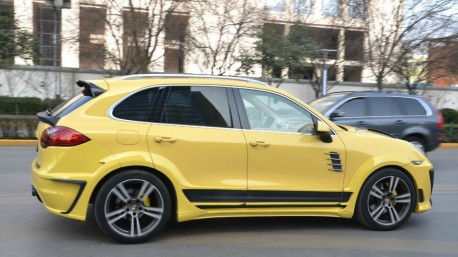 The ugly fake air vents on the door are not part of the Lumma kit but Chinese after-market misery, we see them a lot, causing a healthy appetite for destruction each time! Lumma does not fiddle with the engine, but the CLR 558 GT is based on the Cayenne Turbo so power shouldn't be a problem.
Time now for our China-Porsche Cayenne Collection™: TechArt Magnum, baby blue, Hamann Guardian, a fish, pink, body kit, police car, matte black, broken with semi-naked girls, very pretty, Hamann Guardian,  stretched, pink, in gold, another stretched, in orange, with dog-pee, and French.