A very hip Volkswagen Passat CC, Spotted in China in the Dongba area in Beijing. The good Volkswagen was painted in white and wrapped in carbon-fiber black and gray, and further dressed up with black windows, an orange strip around the windows, an orange strip over the doors, an orange strip under the headlights and grille, a black grille, an orange Volkswagen logo on the grille, and matte gray 10-spoke alloys.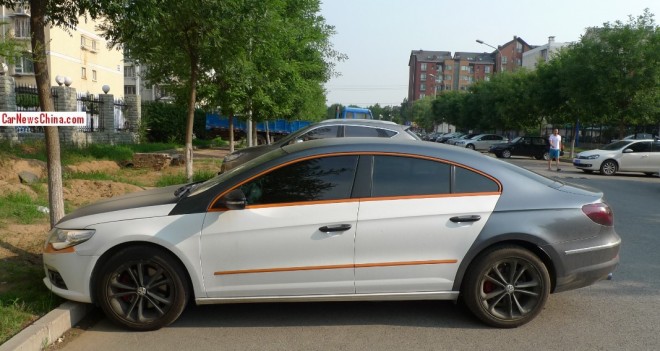 The bonnet and roof are in carbon-fiber black, but both sides of the roof, the C-pillar, and the back are in gray. An outstanding combination of colors! Doorhandles are a matte black similar to the matte black used for the alloys. Black windows contrast greatly with orange window strips and white body, but not too good with gray.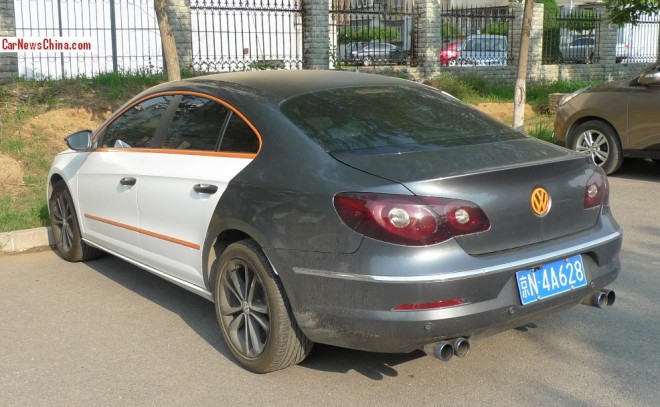 Logo in orange again.
The Volkswagen Passat CC is manufactured in China by the FAW-Volkswagen joint venture. Price starts at 252.800 yuan and ends at 342.800 yuan. Engines: 1.8 TSI, 2.0 TSI, and 3.0 V6.Time now for our Famous China CC Collection™:  banana, shiny green car, a matte purple CC, and a low-riding example.