A very dusty Toyota 86 sporty car, Spotted in China on the Beijing Tuning Street in east Beijing. The good Toyota is painted in black and further toy'ed up with a badass body kit, darkened windows, a giant wing at the back, ready-to-race slick-like tires, six-twin spoke silver gray alloys, and…
… superbly cool stickers including a giant red unicorn on the door and above the rear wheel arch. The unicorn, a rare animal it must be remembered, loox genuinely angry with that blue Subaru Impeza WRX STi on the left.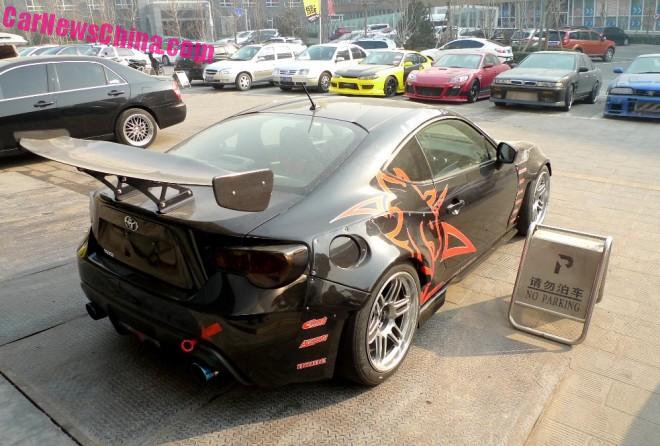 The wing is wide but bolted very small. Tow eye in bright yellow with an arrow. Rear wheel arched widened so much that the fuel cap is almost unreachable. Exhaust pipes are in blue, we are seeing that a lot recently, probably a new trend.
The Toyota 86 is slowly becoming more popular in China. Price starts at 269.000 yuan and ends at 279.000 yuan. Power comes from a  four-cylinder boxer engine that delivers 200hp and 205nm, but we bet this particular example down Tuning Street has a few horses more!
We have a small collection: license (86AE9), body kit, double in Beijing, one with a girl, and a lone Subaru BRZ pretending to be an 86.