A very speedy Subaru BRZ, Spotted in China at the Solona shopping mall in Beijing. The super Suub has been sexed up considerably with a lowered suspension, a red and black bonnet, racy stickers all over, darkened windows, and racy low prifile tires, nice in the snow!, with matte gray 6-spoke alloys. Best however is the license plate reading 78786, referring to the Toyota 86, the Suub's sister.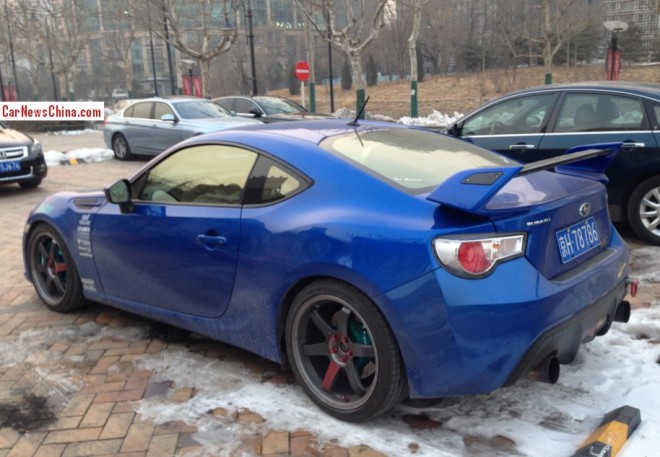 More fun at the back with a giant adjustable wing and extra large exhaust pipes. Brake claws are painted in some kinda green which doesn't really match with the rest of the palette. The base Subaru BRZ is powered by a four-cylinder boxer engine with 200hp and 205nm, but we bet this BRZ has a bit more bark under the bonnet!
Price in China starts at 269.000 yuan and ends at 279.000 yuan. The BRZ was launched on the China car market in March last year, and this is only the first example we meet in the wild, and we saw just two Toyota 86, indicating sales are slow and slower than expected.
---