A beastly BMW 1 Series M Coupe, Spotted in China in the Lido area in Beijing. The Bimmer is painted in black and sexed up the the absolute max with a black grille, darkened headlights, darkened windows, super sized race track-like tires with five-twin spoke matte gold alloys, and a body kit including a wild front bumper, side skirts, and a diffuser at the back.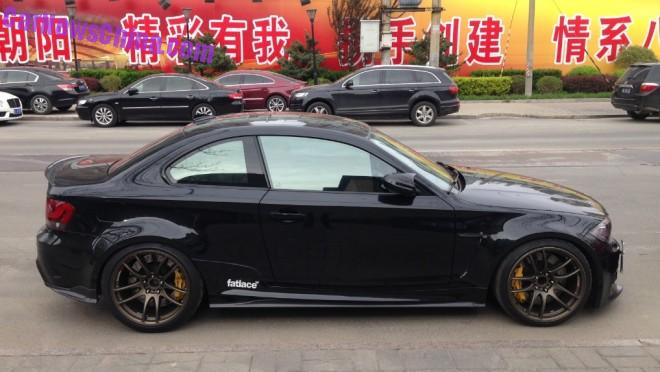 Spoiler on the boot lid is a tad too subtle for this monster machine. Yellow brake calipers match perfectly with black body. The BMW 1 Series M Coupe, or simply '1M', was manufactured from 2010 until 2012, it is a rather rare car as only 6331 units were made, 450 of which came to China. Power comes from a twin-turbocharged straight-six with 340hp and 500nm, but we bet this black Beijing beast has a few horses more…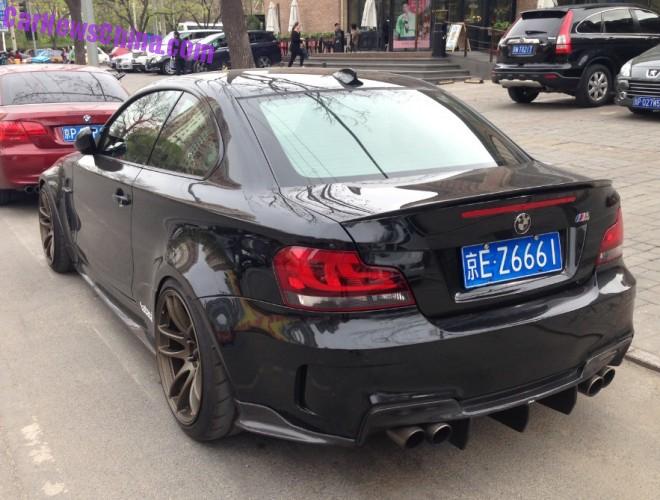 License plate is likely a fake. Six is a lucky number in China, but nobody is lucky to have three on a plate. Carbon fiber winglets on each side of the bumper. Two twin-pipes and an impressive diffuser that looks good enough for serious racing on the road.
Time now, for our small but Famous China BMW 1M Collection™: matte blue, orange, and black & white.