The facelifted Volkswagen Bora will be launched on the Chinese car market in March. Volkswagen says this Bora is "all new" but that is not exactly true. While much of the design is indeed new, the platform, engines, and even the interior didn't change at all.
This is the current Bora.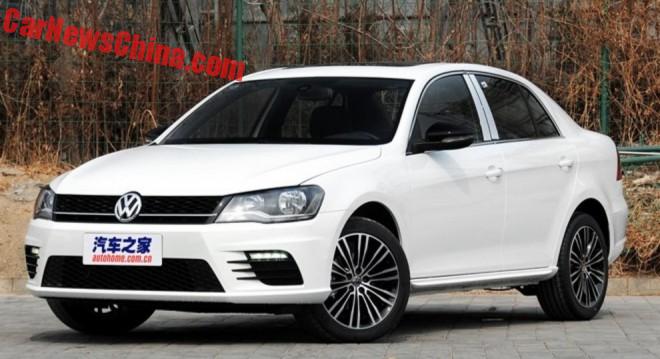 And this is the current Bora Sportline.
Price for the Bora starts at 104.800 yuan and ends at 149.800 yuan. Two engines: a 1.6 with 105hp and 155nm, and a 1.4 turbo with 131hp and 220nm. The 1.6 is mated to a five-speed manual or a six-speed automatic, and the 1.4 turbo is mated to a seven-speed DCT.
These two engines are ancient Chinese-Volkswagen warriors, the 1.6 has been in use in various Volkswagens since about 2004 and the 1.4 turbo arrived in 2008.
And the engines will… continue yet again in the facelifted "all new" Volkswagen Bora. The 1.6 gets a power up of five (05) horses, so it will have 110hp. Torque didn't change. Output of the 1.4 turbo didn't change either.
Size of old: 4523/1775/1476, wheelbase is 2610.
Size of new: 4562/1793/1468, wheelbase is 2614.
Price of the "all new" Bora will start around 100.000 yuan and end around 150.000 yuan, just like the current car. The Bora is made in China by the FAW-Volkswagen joint venture.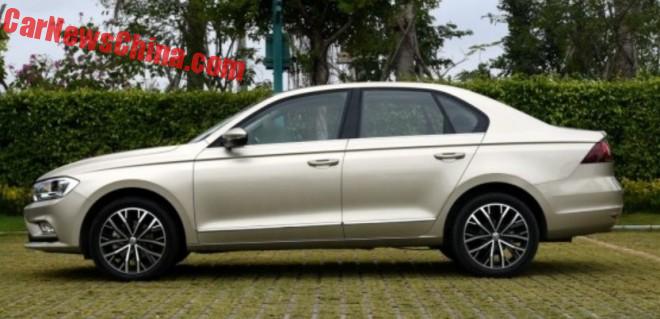 The new lines do the old Bora a lotta good. It almost looks modern. But that impression disappears inside: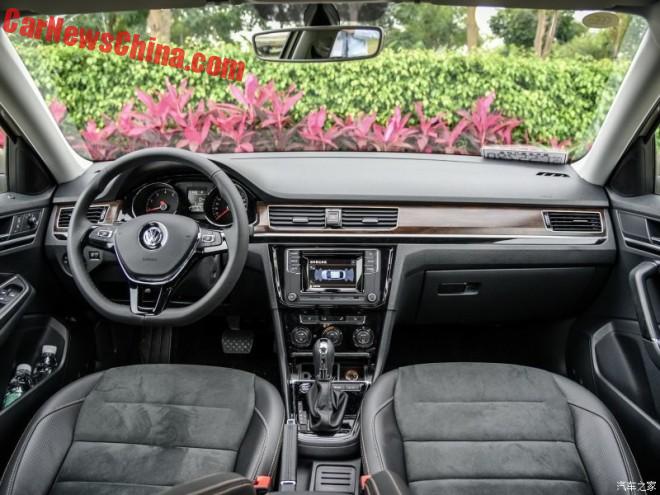 Oh no. Isn't that exactly the same interior as the current Bora…? Dressed up a bit with fancy buttons and such?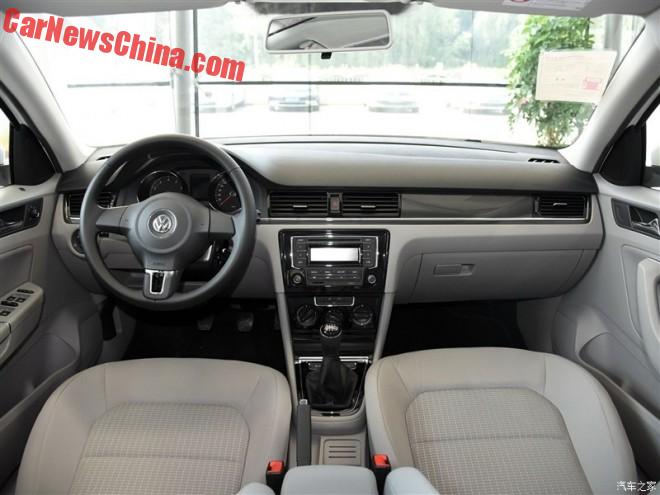 Yes it is. This is the interior of the current Bora. It is exactly the same dashboard as in the "all new" Bora. Volkswagen says they added some new like rain-sensing windshield wipers and PM 2.5 anti-air pollution filters. Ok, good. They also added a new touch screen, and it is…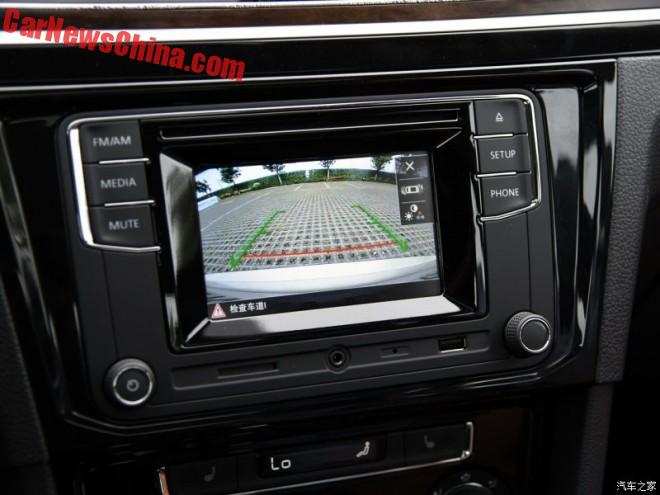 … really very bad. It is incredible small for China in 2016 and it looks incredible cheap. You can buy better ones on any car parts market in China. Horrible.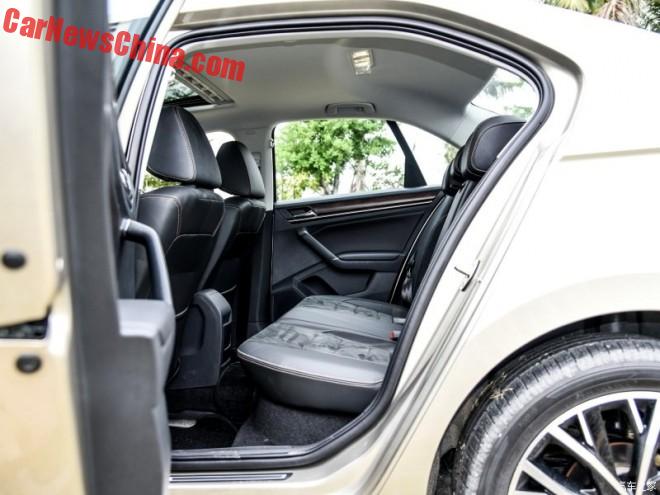 Roomy.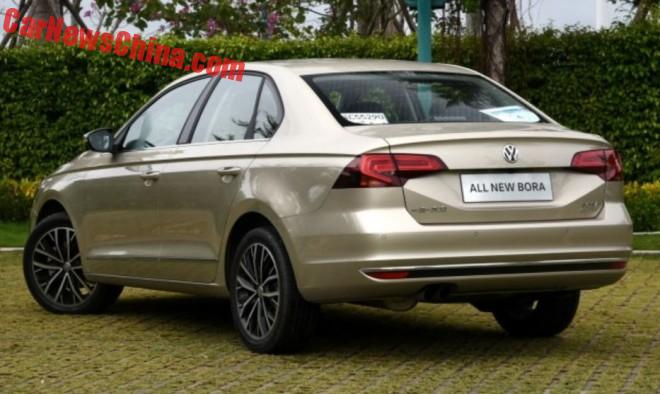 There it is: the ALL NEW BORA. In capitals no less. And there goes the siren of the muffler alarm! See that muffler hanging in nowhere land under the body, with a primitive cut in the bumper for the pipe.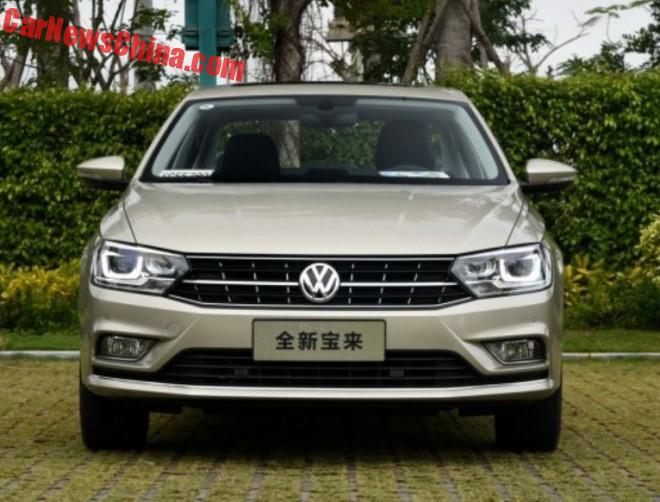 New grille looks nice.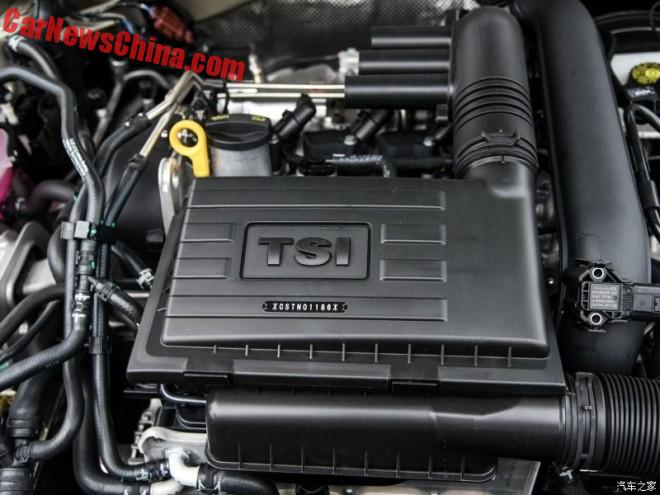 The 1.4 turbo. Volkswagen slaps a TSI badge on it, but that is very sneaky, because this engine is not a TSI twincharger. It is a normal 1.4 turbo with a normal single turbocharger. Volkswagen is using the same deceptive naming scheme with the Chinese Polo GTI, which is a truly fake of a car.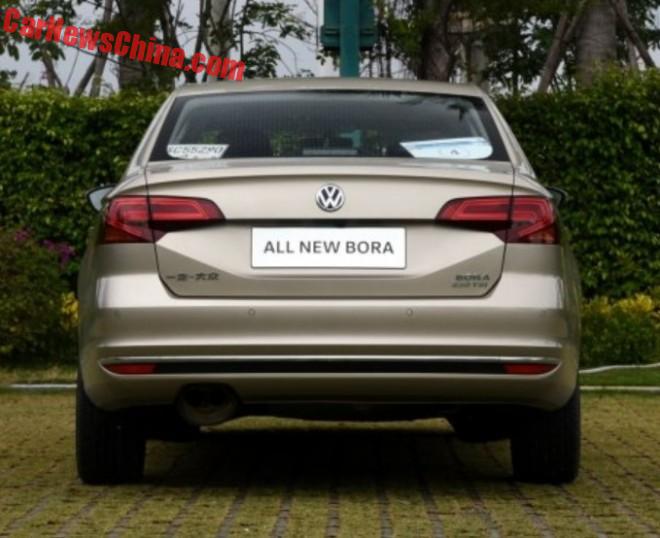 I can see your muffler!, on an outdated car.