A nasty supercar crash in China. A white McLaren 570S bumped into a white Lexus NX SUV on a highway near the great city of Hangzhou in Zhejiang Province. The roads in and around Hangzhou seem dangerous for supercars. We see a lot of crashes there: Ferrari F12, McLaren P1, Maserati GT, Ferrari 458, Lamborghini Gallardo, and an Aston Martin Rapide. Do not go there when you own something fast!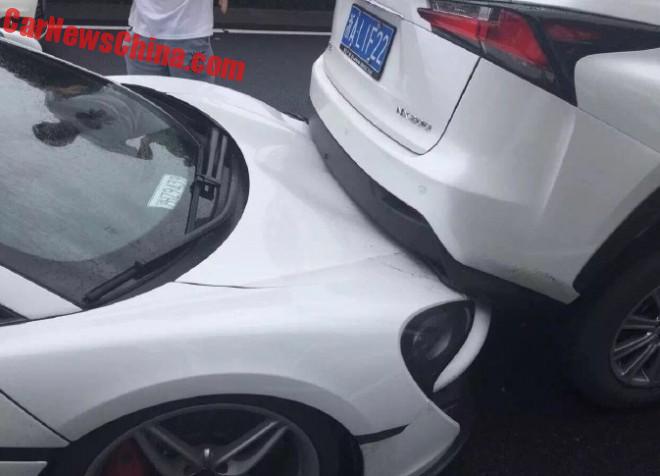 The accident happened when the Lexus driver suddenly slowed down, for yet unknown reasons, surprising the McLaren. The 570S bumped under the bumper, lifting up the rear of the Lexus. Happily nobody got hurt and the damage doesn't seem so bad.
But the Mecca will still need a new hood and new front fenders, which won't be cheap. An all new 570S is hugely expensive too, going for 2.55 million yuan or $380,000. Power comes from a 3.8 liter twin-turbocharged V8 engine with 570hp and 600nm, good for a 328km/h top speed, for a 3.1 sec 0-100,  and for bumping Japanese SUVs.