A Ferrari 458 Spider crashed in China, hitting the wall of a tunnel near the great city of Hangzhou in Zhejiang Province. Local media say the Spider had a speed of around 100 kilometer and hour when the driver lost control on a slightly downhill part of the tunnel. The 40-year old driver, seen on the right with a big belly and a phone, escaped completely unhurt.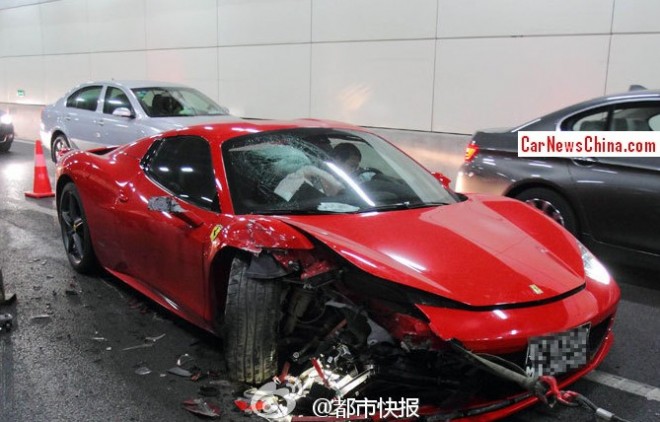 Heavy damage at the front. Person inside is a policeman 'investigating'. Airbags did deploy. Front suspension and steering rack completely gone. This is going to be an expensive repair. Price for a new Ferrari 458 Spider starts at 4.43 million yuan or 715.000 USD…
Ferrari is the most popular super car brand to crash, much more so than Lamborghini and Porsche and Aston Martin combined. Those Red Horses yeah…
Here is our Famous China-Ferrari Crash Collection: hard 458, FF hits a truck, F12berlinetta hits MPV, FF again, 458 & California hit a highway, 458 Spider in a hedge, 458 gets horse-kicked, Ferrari 612 hits pickup truck,  Ferrari Enzo hits a barrier, 458 hits a barrier, Ferrari FF on fire, and a Ferrari California on fire.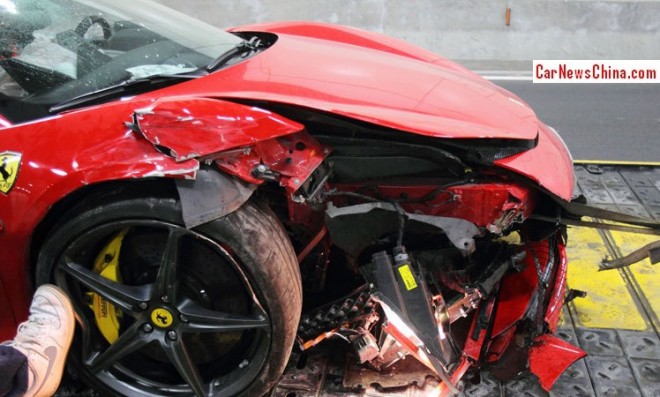 Kicking the tire to check for air. Alloys in matte black with yellow brake pads.
---