Recently, a set of patent drawings of the upcoming Honda Civic hatchback leaked. It confirms that the new Civic hatchback is all set to be launched in the Chinese market along with the sedan model. Unlike the earlier Civic hatchback, the latest version will feature a more sporty design. The patent also confirms that the Civic continues the design of the sedan version. There will be specific changes in the rear part of the car to look sportier.
As per the patent images, it looks almost similar to the current Civic sedan to the front. The difference lies only with the front grille. It will use a flat-shaped air intake grille and horizontal black trims to decorate the center net. The long narrow headlights and the black trim strips running through the bumper correspond to the sedan version. In comparison, the only difference lies in the lower air intake. The hatchback version uses a honeycomb structure. In comparison, the sedan version has a horizontal black trim.
Unlike the previous generation model, the new Civic hatchback has changed starting from the C pillar. It is now decorated with chrome strips. In fact, the difference in the body begins from the C pillar. The trunk has a duck-tail shape design. It will improve the convenience of picking and placing items. The new short tailgate also helps the upcoming hatchback to look sportier. To the rear, the hatchback model will use a through-type taillight design that is entirely different from the current sedan model. The taillights are in an arc style which looks more refined. However, we did not see the sedan sports model's spoiler and exposed exhaust layout in the patent map. Also, it is worth noting the elements seen on patents don't have to be necessarily included in the production variant.
The upcoming Civic hatchback will continue to use the same design as the current Civic interiors. That said, the new car will be equipped with a full LCD instrument panel with a three-spoke multi-function steering wheel. It will also feature a suspension design for the multimedia display screen, which is present in the center. Further, it will sport a through-type air conditioner on the center console. The style of the Aircon vents looks good.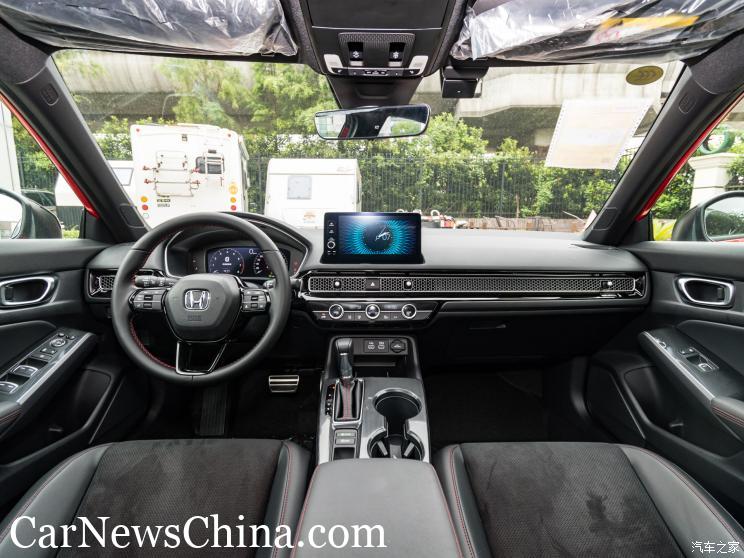 The overall design of the interior of the new hatchback looks more refined. It will also use the latest technology. Underneath the new Honda civic hatchback, it will continue featuring the 1.5 Litre turbocharged engine. It produces a maximum power output of 182 HP (134 KW) and a maximum torque output of 243 NM. The 1.5 Litre engine will be paired with a CVT gearbox.