As countries around the world are announcing sanctions against Russia, what impact will this have on Chinese car companies?
Chinese Car Market Performance in Russia
In 2021, China's car exports exceeded 2 million units for the first time reaching a record high 2.015 million units, accounting for 7.7% of the total Chinese car sales, according to the China Association of Automotive Manufacturers (CAAM).
Russia came in third in the list of top ten countries that China exported vehicles to in 2021. The top ten countries were Chile, Saudi Arabia, Russia, Belgium, Australia, Mexico, Egypt, Bangladesh, the United Kingdoms, and the Philippines. A total of 1.059 million vehicles were exported to these 10 countries, accounting for half of the total Chinese vehicle exports, according to CAAM.
Specifically, the total sales of Chinese vehicles in Russia was 115,700 units in 2021, doubling from 2020. Chinese vehicle's market share in the Russian passenger car market increased to nearly 7%, according to the European Business Association.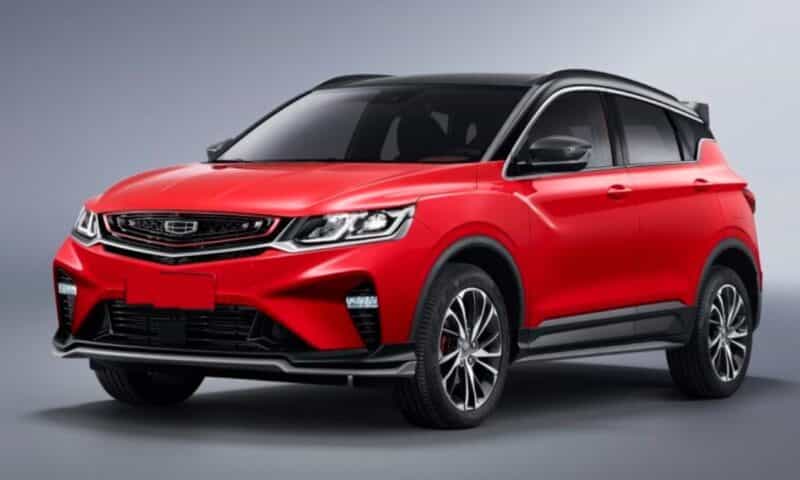 In the Russian market, Great Wall Motors, Chery, and Geely are the best performing Chinese car companies. In 2021, Geely's Russian dealers sold a total of 24,587 vehicles, a year-on-year increase of 59%. The best-selling model was the compact Geely Coolray, with 11,101 units sold, a year-on-year increase of 97%. Other best-selling vehicles included the Geely Atlas and the crossover coupe Tugella.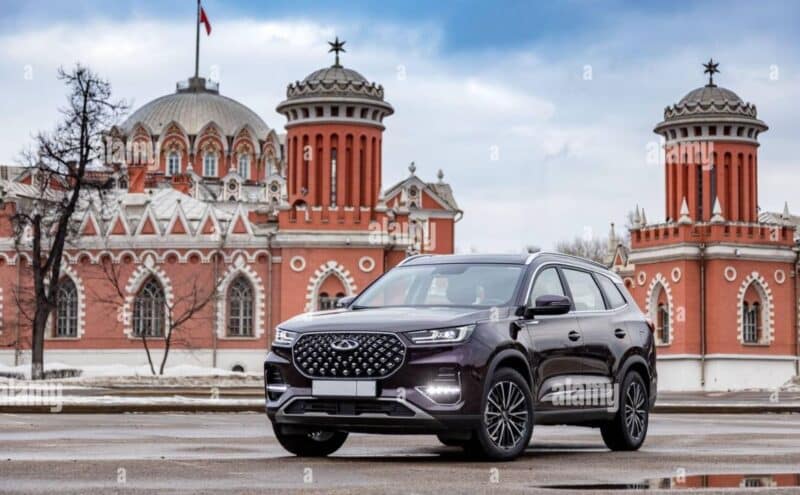 Russia is Chery's best performing region in the overseas markets. In 2021, Chery's sales in Russia increased by 224% to 37,118 units. The top three most popular countries for Chery in overseas markets are Russia, Brazil, and Chile.
Great Wall Motors in Russia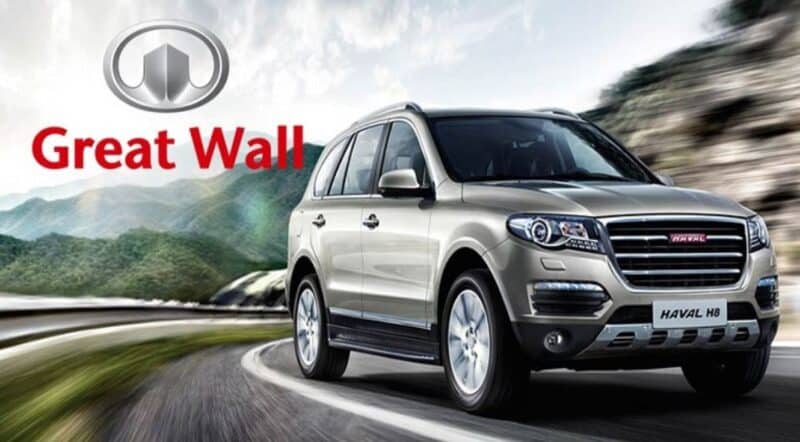 In 2021, the sales volume of Great Wall Motors in Russia and surrounding regions achieved a record high 40,000 units. Great Wall Motors' market share increased by 1.2% and 39,000 new cars were sold in Russia, a year-on-year increase of 125%. Great Wall Motors sold a total of six vehicle types in Russia, with more than 100 distribution network, according to Great Wall Motors' 2021 semi-annual report.
Unlike Chery and Geely, Great Wall Motors not only has sales companies but also production plant in Russia located in Tula Oblast, an important industrial city in Russia. This plant was the first overseas vehicle manufacturing plant of a Chinese car company that covers the four production processes of stamping, welding, painting, and final assembly. It is also the largest overseas investment project of a Chinese car company, with a total investment amount of more than 500 million RMB or 79 million USD. It is planned to produce 150,000 vehicles per year, with a total output value of more than 18 billion RMB or 2.8 billion USD after production starts.
The chairman of Great Wall Motors, Wei Jianjun, once said that Russia is the first step for Great Wall Motors to achieve a global presence.
On February 24th, Great Wall Motors informed the public that the conflict between Russia and Ukraine will not affect the production and sales of the company's Russian plant. Ukraine's export business ma be affected in the short term, but there will be no problem in the long term. From the perspective of stock prices, Great Wall Motor's stock prices in A and H shares did not experience large fluctuation in recently trading days.
SWIFT Sanction Impacts
This week, the United States, Canada, and European Union are tightening financial restrictions on Russia by excluding seven Russian banks from using the SWIFT messaging system, the global messaging system that enables bank transactions. This sanction will greatly increase the cost of cross-border payment and capital flow for multinational car companies, or even make it difficult to execute cross-border transactions.
For Great Wall Motors, it is still unknown how big the impact of the sanction will be.
On February 27, Dongshu Cui, secretary-general of the China Passenger Car Association (CPCA), wrote that when Iran was kicked out of SWIFT in 2018, the country's auto market was hit hard and Chinese car company exports to Iran suffered huge losses.
In 2017, before the sanction, Chinese car companies exported 360,000 vehicles to Iran. In 2018, exports fell to 190,000 vehicles. In 2019, only 1,524 vehicles were exported. And in 2021, only 2,157 vehicles were exported.
The impact of the sanction on Chinese car company exports to Russia will not be greater than that of Iran, according to Cui. This is because Russia developed its own Financial Message Transfer System of the Bank of Russia (SPFS) in 2014 after allies on both sides of the Atlantic wanted to use the SWIFT option during Russia's annexation of Ukraine's Crimea. By the end of 2020, the SPFS is linked with 23 banks in Armenia, Belarus, Germany, Kazakhstan, Kyrgyzstan, and Switzerland.
Can Russia rely on the Cross-Border Interbank Payment System instead?
In 2015, China developed its own Cross-Border Interbank Payment System (CIPS), a payment system that offers clearing and settlement services for its participants in cross-border RMB payments and trade. CIPS has been using SWIFT as its communication channel since 2016. Due to this, only direct participants can exchange information through CIPS, while indirect participants still need to rely on SWIFT to exchange information with direct participants.
Russia can use CIPS to settle cross-border payments. As of June 2021, 13.8% of Russia's reserves or an estimated US$77 billion were in Chinese assets, according to the most recent figures from the Bank of Russia. Since China did not sign on the sanctions imposed by the United States, Europe, and other countries, Russia can still access its reserves held in Chinese assets.
After major Russian banks are kicked out of SWIFT, Chinese car companies may rely more on the CIPS or SPFS system. On the contrary, European, American, Japanese, and Korean car companies that rely more on the SWIFT system may be more affected.
ABOUT CPCA
CPCA is a non-governmental organization established in 1994 by SAIC Volkswagen and several other sedan manufacturers. Its original name was National Sedan Market Data Fellowship Society. It is not qualified for automotive statistics or authorized by the government to gather and publish automotive statistical data. It is merely a data exchange platform between automotive companies by gathering data from the reports submitted by these companies.
About CAAM
CAAM is a non-profit organization founded in Beijing in May 1987 formed based on the principle of equality and voluntariness, consisting of enterprises and institutions as well as organizations engaged in production and management of automobiles, auto parts, and vehicle-related industries founded within the boundaries of the People's Republic of China. It aims to promote the rapid development of the automotive industry in China through policy research, information service, self-discipline in trade, international communication, and exhibition service. CAAM is a permanent and vice president member of the International Organization of Motor Vehicle Manufacturers.
Source: CPCA, European Business Association, niuche, statista, auto-first, CAAM