Around 2015 Dongfeng held seven joint ventures with international brands (Nissan, Infiniti, Peugeot, Citroen, Honda, Kia and Yulon) and one domestic brand (Sokon), making it China's king of joint ventures. Last week we already saw how Citroen en Peugeot sparked Dongfeng's foray into passenger car production. We also know that closest tie-up is with Nissan, but that's for later. Today we look at Dongfeng's involvement with Kia, Honda and Renault.
Dongfeng Yueda Kia Automobile Co., Ltd.
Kia is now South Korea's second automobile manufacturer. The company origins can be traced back to 1944 when it started making metal tubes for bicycles. In the late 1950s the company turned to automobile production, making licensed-built Honda's first and Mazda's later. Following a coup in the country and the installation of a military dictatorship, Kia was forced to shut down for a few years in the 1980s, but restarted production in 1986 with the help of Ford Motor Company. The first self-designed car, the Sephia (that still relied heavily on Ford/Mazda technology) appeared in 1992. Five years later, Kia declared bankruptcy as result of the Asian financial crisis and was rescued by Hyundai Motors, that remains the controlling shareholder until today.
Just before its bankruptcy, Kia made a very low-key entry to Chinese market. In 1996 it entered into a deal with Yancheng city authorities for CKD-production of the Kia Pride, a rebadged Mazda 121. Yancheng is a city in Jiangsu province and the local authorities had formed a state-owned industrial group, called Yueda Group. The investment arm of this Group, Jiangsu Yueda Investment, became the first joint venture partner of the Koreans in a 70/30 split (70% for Yueda).
Kia's domestic problems and the fact that the joint venture company was restricted to provincial sales only (they had no national production permit) resulted in, as far as I can find out, very small numbers in the early years. That changed when Hyundai got involved with Kia in 1999. The ambition level went up and so the permit problem needed to be resolved. Since the central government was less than forthcoming, the only solution was a tie-up with state-owned manufacturer. So after a few equity changes, where Hyundai was shortly involved as shareholder, the joint venture became a threesome. In March 2002 Dongfeng Corporation (25%), Jiangsu Yueda (25%) and Kia Motors (50%) jointly established Dongfeng Yueda Kia Automobile (DFYK).
In the same year Hyundai Motors established its own Chinese joint venture with BAIC Group in Beijing. In Korea Hyundai used its own platforms and technology to revive the Kia brand and applied the same strategy in China. DFYK started production of Quanlima (Hyundai Accent), Optima (Hyundai Sonata) and Cerato (Hyundai Elantra). There was one exception. The Kia Carnival, a large MPV, had no direct Hyundai cousin.
It would take a few years, but at end of the 2000s Kia was allowed to distance itself a bit more from its parent company. Of course, Hyundai and Kia continue using shared technology like platforms and engines, but in marketing and design, Kia chose its own path. It's positioned to be younger and sportier than Hyundai, which is symbolized by the cubical Soul model. The new direction meant good things for the brand. All over the world, including China, it began a slow but steady ascent of the automotive ladder. Once Kia was a manufacturer of mediocre low-budget cars, now it's a credible front runner in the mainstream segment. Kia's sales in China peaked in 2016 when the brand sold over 600,000 cars.
In the meantime, the three-way joint venture remained a difficult proposition. In the early 2000s, after securing the production permit, Yueda Group suggested at several times that Dongfeng should leave the joint venture. Which it didn't. Consecutively, Dongfeng and Yueda cooperated on a New Energy R&D joint venture (Aoxin), that electrified some Shenlong models, Dongfeng minitrucks and commercial vehicles. Today it's wholly owned by Yueda and has added lightweight engineering and fuel cells to its field of interest. It also has a passenger car operation, Guoxin New Energy, that produces an aluminum platform/carbon fiber body mini EV with double-wishbone suspension. Very BMW i3. Yueda Group also invested in a special purpose vehicle factory (making things like sanitation trucks) and of course Human Horizons.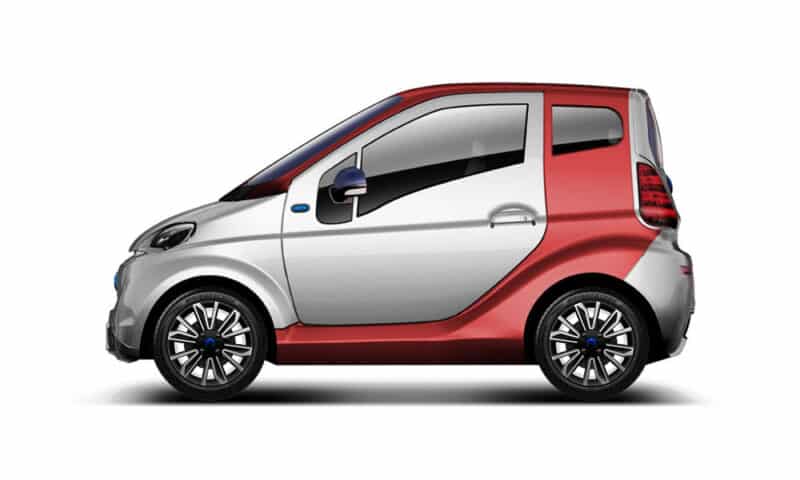 In 2018 The South Korean government invited the Americans to put up their strategic missile defense systems (the "star wars" program) on Korean soil. It sparked a still-running diplomatic dispute between China and Korea, which ran havoc for Korean companies in the Chinese market. Not just Hyundai-Kia saw a decline in sales, also Samsung phones quickly went out of fashion. Combine that with similar difficulties as described with Shenlong (little to offer in smart connectivity or New Energy vehicles, not even the e-Niro that's so successful around the globe) and there's a recipe for disaster.
So despite the rejuvenated line-up, Kia is kind of in trouble now in China. Last the brand sold only 150,000 vehicles. It abandoned its first factory in Yancheng, which now serves as assembly plant for Human Horizons. A sign of the times? Yueda Group finally got its wish in December 2021. Dongfeng put its 25% shareholding in DFYK up for sale. They ask RMB 297 million, but I don't think there's a buyer yet. Yueda Group won't put any money in and Kia hesitates, so the future of the company is uncertain for now.
Dongfeng Honda Automobile Co,. Ltd.
Contrary to the ups and downs of Kia, the story of Dongfeng's joint venture with Honda is one of enduring success. No drama, so it will be a slightly boring story. There is one similarity with Kia though. Honda's involvement in the Chinese automotive industry is also a happy threesome with two Chinese partners. Honda has a joint venture with Guangzhou Automobile (GAC) as well, but in this case everything is closely connected.
Like the origins of Japanese company itself, Honda's involvement with manufacturing on Chinese soil starts with motorcycles. In the early nineties Honda sets up two motorcycle joint ventures, a few years later followed by a third. Honda isn't just one of the most important motorcycle manufacturers, it's also the most copied one. The Japanese invest heavily in litigation and after many years of court cases, it's one of the first foreign brands that gets proper trademark protection.
Honda's first step in the automotive sector is a components joint venture (Dongfeng Honda Auto Parts) in 2004. Three years later it outlines its China strategy with a framework agreement with GAC and Dongfeng. GAC will assemble the entire cars (Guangzhou Honda), Dongfeng will manufacture the engines (Dongfeng Honda Engine). This strategy is successful and not much later Honda needs increased capacity to meet market demand. So it also sets up a car assembling joint venture with Dongfeng.
For the origins of Dongfeng Honda Automobile we have to go back to 1993. The Wuhan Economic & Technology Development Zone was created to house Shenlong, the Dongfeng Citroen joint venture. It also attracts some other car related businesses. One of them is Wuhan Wantong Automobile (Grand Motor in English), a joint venture between an unknown (to me) Taiwanese investor (49%), Dongfeng (20%) and, hello again, Hyundai Motors (21%). Wantong builds a factory with 60.000 vehicles annual capacity to produce Hyundai Grace/H100 vans from CKD-kits. In its best years Wantong utilizes 10% of the capacity. Due to the disappointing results and a new joint venture with BAIC Group, Hyundai pulls out of Wantong in 2002. That leaves it pretty much an empty shell company. Dongfeng acquires all the shares and renames Wantong to Dongfeng Honda Automobile, a 50/50 joint venture with Honda.
Business is going well. Honda builds a second Wuhan factory in 2012, a third in 2018, takes over an idle Shenlong factory in 2021 and announces an all-new BEV-only factory earlier this year. Almost at the same time as Dongfeng Honda, the Japanese set up a third joint venture plant called Honda Automobile (China). Honda owns a majority of 65%, GAC holds 25% and Dongfeng has 10%. This plant is only used for export to Asia and the Middle East. In 2020 the factory is added to GAC Honda.
Both joint venture produce mostly the same catalog of cars, but under different model names. Fast sellers for Dongfeng Honda are the CR-V, Civic and XR-V (rebadged HR-V). From 2012 to 2016 also sold an older generation of the Civic under the Ciimo brand. After a few years absence, the brand returned in 2019 and offers fully-electric versions of the XR-V.
Dongfeng Renault Automobile Co., Ltd.
Renault has quite a long, but intermittent and meandering history in China. It already exported rolling chassis to the country in the 1930s, when there was a French sector in Shanghai. But its formal presence in China dates back to September 1993, when it forms Sanjiang Renault Automobile. This is a joint venture between the French automaker (45%) and Sanjiang Aerospace Group (55%), a company related to the defense industry. Sanjiang Renault builds a factory in Xiaogan (Hubei province) for two types of vehicles: the second generation Espace MPV  and Trafic vans.
Starting in 2994 both cars are initially produced from CKD-kits. For the Espace that never changes until the end of production in 1999. The Trafic vans are gradually localized, but production numbers remain much lower than Renault had expected. The factory has a capacity of 60,000 cars annually, but when Renault pulls the plug on the effort in 2003, a grand total of 6,000 cars have been produced, 4,112 Trafics and just under 2,000 Espaces. Renault ends production, but doesn't pull out of the joint venture, because the product permit is still a valuable asset. The plant is sold to Sanjiang Aerospace and converted to a gearbox factory.
Around 1999 Renault explores a possible joint venture with BAIC Group and Beijing Auto Works trial produces small batches of the Renault 21 and Scenic. BAIC eventually chooses Hyundai over Renault, so the French decide to rely on importing cars in China and simultaneously start to negotiate with Dongfeng. When the French government, part owner of Renault, supplies a satellite system to Taiwan, relations with China become strained and the talks are suspended.
At the same time Renault rescues Nissan from possible bankruptcy and the Japanese company forges a joint venture with Dongfeng in 2003. It is expected that Renault will soon follow, but the two parties can't agree on the production site. In 2010, after negotiations fail again, Renault sets up the wholly owned Renault Beijing Auto Sales, a trade organization. It imports the Koleos model, which becomes an unexpected success. That revives the negotiations with Dongfeng and in March 2012 both parties finally sign a memorandum of understanding.
It takes another 20 months before the actual joint venture becomes reality. This is because the deal is based on the old and idle Sanjiang Renault company. However there are questions about the actual ownership and it takes a long time and government intervention to sort it all out. In the end Dongfeng acquires all shares and then turns it into a 50/50 joint venture called Dongfeng Renault Automobile. The company builds a new factory in Wuhan.
Production starts in early 2016 with the Kadjar model, based on the Nissan Qashqai, quickly followed by the Koleos. In 2019 the second generation Captur and the eNuo (EV based on the Indian Renault Kwid) are added. After a promising start of 72,000 cars in 2017, it's only downhill from there. In 2019 Dongfeng Renault sells less than 20,000 cars and then Covid-19 strikes. With sales non-existent and factory closings in Wuhan, Renault decides to pull out of the joint venture. So much effort, so little reward. Dongfeng renames the company Dongfeng New Energy (Wuhan) Vehicles and assigns it to the production of Voyah cars.
It doesn't mean Renault is entirely gone in China. It's still part of eGT New Energy Automotive, a joint venture from 2017 between DFMG (50%), Nissan (25%) and Renault (25%). eGT is mainly a R&D company for New Energy applications. It developed the eNuo model, that's also sold under four different Dongfeng brands and in Europe as Dacia Spring. For its regular models, Renault has to rely on imports once again.
Next week
Nissan is the main partner of Dongfeng and in China the two automakers are massively intertwined. Next week we start unraveling the knot.
Read more Automakers Stories
Every week we publish one exiting article about history of famous Chinese Automakers. Check the ones you haven't read yet.