Among all the car manufacturers in China, Chery is quite a weird one. Formally it is a state-owned enterprise, but throughout its life, it behaved mostly as an independent startup. It started like many others with acquired technology but moved development in-house much quicker than most state-owned competitors. For a while, it deployed a multi-brand strategy like Geely and Chery had the ability to quickly jump on new market trends, where the regular SOEs are usually quite sluggish trend followers. So, let's find out why Chery is different than its competitors.
River town
First, let's get our location straight. Chery comes from Wuhu, a city on the banks of the Yangtze River, a few hundred kilometers downstream from Hefei. Hefei is of course the capital of Anhui province and home to JAC and NIO. Wuhu was mainly a city of trade, but during the "Great Leap Forward", it strengthened its industrial base. Although the economic program was ultimately a failure, some industries, like the textile industry, stuck to the city.
In those years, Wuhu also took its first steps in car production. The Wuhu Jiangnan Auto Repair Factory produced a three-wheeled vehicle in 1958, probably based on a Japanese design. A year later, the factory also unveiled the Jiujiang car. As with many of these early developments, the recession following the Great Leap Forward wiped out the effort before it could take off.
The city houses however one major industrial effort: the Wuhu Shipyard. It was established in the year 1900 and served as a military shipyard for many decades. In more recent times, it has transferred into civilian production. In the 1980s the shipyard became part of the China State-owned Shipbuilding Corporation. In 2007 Wuhu City engineered a local take-over. The city gained control over Wuhu Shipyard by acquiring it through Chery Holdings. Yes, Chery makes ships too. In fact, Chery acquired another shipyard earlier this year in Weihai (Shandong) to produce its own car and truck carriers for global exports. But I'm getting ahead of the story.
Wuhu was mainly about trade and textiles for a long time, but in the 1980s the textile industry began to dwindle. This was followed by some heavy floods of the Yangtze River, that brought large damage to the region. In response, city officials began to look for new industrial opportunities and car production was once again on their minds. The car industry had been designated as one of the 'pillars of industry' by the federal government, so a plan to become a car city was quickly approved by political leaders at the provincial and national levels.
Tongbao Automobile
Wuhu's first effort at car building came from one of its district councils, as Xinwu District Council converted a military facility into the Yuanhu No. 3 Special Vehicle Works. This took place in October 1992. The new factory began making a small sedan with a fiberglass body called Tongbao WHW5010QC. Unfortunately, very little is known about this car and I can't even show you an image. (The car is pictured in Eric van Ingen-Schenau's book "Made in China, lost small cars of the 1990s"). Besides a four-door sedan, there was also a two-seat pickup.
In 1997 the factory was renamed Wuhu Special Vehicle Works and launched an additional model, the Tongbao WHW6400CH. This was another fiberglass body, shaped like a small MPV, on a FAW Jilin chassis and powered by a Dongan 1-liter engine. Both models sold in very small numbers and were mainly used as taxis in Wuhu City. Tongbao made just over a thousand cars in 1994, but that was probably their best year. By the end of the 1990s, they had sold about 4.000 cars in total. Besides the two plastic cars, Tongbao also assembled a small number of Hyundai Accent cars from CKD kits.
The low production rate initiated a change of strategy. First, Tongbao tried to set up a cooperation with WorldStar (itself a cooperation between Yugoslavian Zastava Automobiles and an American composites company) in 2011, but that failed. Two years later, a technical agreement with Changan did go ahead. Tongbao ditched the plastic cars and began making Changan minivans under its own brand name.
The deal with Changan opened new possibilities, like outside investors. In 2004, Wuhu City sold a majority share of Tongbao to Zongshen, a motorcycle manufacturer from Chongqing. Zhongshen acquired 80% of the shares and the company was renamed Zongshen Tongbao Automobile Manufacturing. Production of the Changan minivans continued until 2008 but never reached great heights. After 2008, Tongboa had a lingering existence and in 2016 its production qualifications were taken away by the authorities.
Stranded assets
A single factory making only a thousand cars per year is not a vehicle industry. The ambitions in Wuhu run higher than that, so Tongbao was just the first chapter in a long story, that would eventually lead to Chery Automobile. Wuhu officials heard in 1993 that a local pharmaceutical company called Sanjiu was interested in setting up car assembly, based on the government plans. Wuhu City put its weight and financial support behind it, but national policy became a deal breaker. At the time, the federal government promoted the "three large, three small manufacturers" strategy, which left no room for new startups. When it was clear the Sanjiu project would not get the blessing at the national level, the project was abandoned.
While trying to realize the Sanjiu project, the people from Wuhu met Geng Zhaojie. Geng was the former chairman and general manager of FAW Group. He was also a descendant from Chaohu City in Anhui, not too far from Wuhu. Aided by the geographical connection the Wuhu official enlisted Geng's services. This experienced manager of course had all the right connections and experience in high-level negotiations. And he knew the FAW Group very well, one of the "three large manufacturers", that Wuhu City courted as a potential partner.
Geng Zhaojie delivered and Wuhu City, FAW Group, and appliance manufacturer Yangzi jointly established the Wuhu FAW Yangzi Chassis Factory. This factory started to produce mainly frames for buses and trucks, with FAW supplying the technology. FAW however quickly lost interest in the project as the quality and quantity of the production was rather disappointing. The large car maker mostly pulled out again in 1995, leaving yet another Wuhu car project stranded.
The chassis factory soldiered on though and gradually expanded production over the years. It wasn't the car factory Wuhu City envisioned, but it survived and in 2006 the city engineered a deal with the other shareholders. The factory was sold to Chery Automobile, with FAW and Yangzi each holding on to a handful of shares. Chery completely retooled the factory and upgraded the capacity to 80.000 light trucks and buses per year.
Fresh faces
Due to the three consecutive less-than-successful projects, the Wuhu war chest was running low. Fortunately, the city received some help from the provincial authorities, including some funds. It allowed for the assistant to the mayor, Zhan Xialai, to be promoted and put in charge full-time of the Wuhu Automobile Manufacturing project. While Zang is a party bureaucrat, he needs an expert to lead the practical side of the operation.
He chooses Yin Tongyue for the job, another FAW manager. Yin is the workshop director for the FAW-Volkswagen joint venture and an up-and-coming talent among the FAW ranks. He also happens to be from Anhui province. Zhan convinces Yin to leave his promising career behind for an uncertain adventure with a simple argument: why work for foreigners when you can lead a new Chinese car brand? Yin agrees and becomes the technical director for Wuhu's car project in 1996.
Zhan doesn't give Yin a lot to work with. Funds are severely limited, so Yin has to set up shop in an abandoned brick factory without heating or air conditioning. The bank account shows RMB 300.000, about the price of a Volkswagen Santana at the time. Yin brought some FAW colleagues with him and started work on setting up a car company.
Things get a lot better when the initial work seems promising and Wuhu City and Anhui Province put their full support behind the project. The car project is formally incorporated on March 18, 1997, as Anhui Auto Parts Co., Ltd. with funding now in the millions. The plan is quite straightforward: first set up an engine production line, create a components industry, and then start to make complete cars.
Before that, the company had to decide on a brand name. Usually, government-sponsored projects simply choose a geographical reference as their brand name, but not in this case. Zhan and Yin had quite a few discussions about it, tried several different options, but eventually decided on Chery. In Chinese it's Qirui, which means something 'unusually auspicious'. The two men probably didn't mind that the English name was quite close to a certain American brand name. And thus the Wuhu Automobile project became formally known as Chery Automobile Co., Ltd.
Shopping for technology
Without any self-owned technology, Chery had no other option than to search for technology for sale. That wasn't an easy task, because international car manufacturers had little interest in working together with an unknown Chinese startup. For a while, a Seat engine assembly line seems to be the most likely acquisition candidate, but the Spanish brand is stopped by its German parent, Volkswagen. So, Yin Tongyue ends up in Wales, where Ford is discontinuing its aging Kent-engine assembly. No less than USD 30 million is needed to acquire the production line and design patents.
In China, Chery builds a brand new facility to house its acquisition. Ford sends a team of engineers to Wuhu, to install all the machinery. Yin and the engineers soon got in trouble with each other, the British work ethos not matching the Chinese expectations. Yin sends them all home, well before the production line is up and running. He and his own team studied all the equipment, had the manuals translated, and installed the entire line in about a year and a half. After some debugging and trial runs, Chery's engine production started on April 27, 1999.
While all this took place, Yin also kept in touch with Seat in Spain. He wanted to use Volkswagen's Jetta chassis for the Chery car, not surprising given his background in FAW-Volkswagen. While FAW-VW surely wasn't going to supply it, Seat built its Toledo model on exactly the same underpinnings and that model had reached the end of its life. Seat defied its parent company and sold the Toledo technology to Chery. This didn't include any molds, so Yin ordered a new set from a Taiwanese company. Based on the Spanish drawing, the mold company produced a good-looking copy of the Seat Toledo body.
On December 18, 1999, the first Chery Fengyun rolled off the production line. This was the Chinese Toledo powered by a 1.6-liter Ford engine. Chery also announces a price for the car, RMB 88.000. That's about two-thirds of the price of a Chinese-built VW Jetta, which is basically the same car. So far, so good, but there was a big problem: the car couldn't be sold anywhere outside Anhui province, because Chery didn't have the national production license.
Getting started
Due to the automotive industry strategy at the federal level, it was impossible for Chery to obtain a production through political means. The only realistic it had, was teaming up with one of the "three large manufacturers", which were FAW, Dongfeng, and SAIC. Given the historic ties, the most obvious choice was to seek a deal with FAW. Yin approached the FAW directors but found a cold shoulder. FAW's partner Volkswagen wasn't amused with Chery car, a direct competitor to the Jetta with pretty much the same technology. With that route blocked and Dongfeng as a loss-making truck manufacturer not at all interested, SAIC was the only candidate.
Yin didn't have a strong negotiating position and SAIC pushed him to the limit. The Shanghai company demanded 20% of Chery Automobile free of charge, in exchange for access to SAIC's production permit. Yin had no other option than to comply, but he could sell the Chery car nationwide starting in early 2001. In 2000 Chery produced 2.000 cars, in December 2001 the counter showed 30.000 and in early 2003, the 100.000th Chery rolled off the production.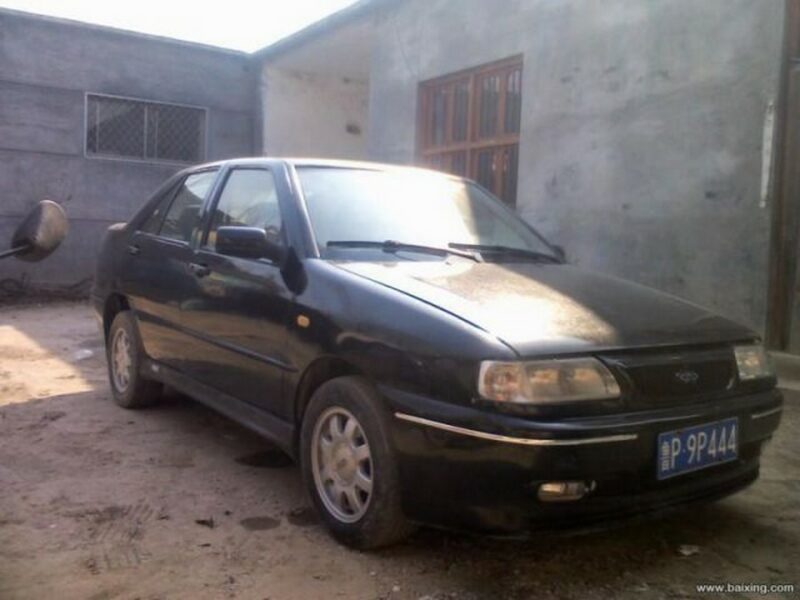 This spectacular growth took everyone by surprise and put a strain on the relationship between SAIC and Chery. SAIC didn't really care about it in the first place, they just thought they got a new revenue stream for free. But when Chery got so successful quickly, it piqued their interest. The Shanghai management started to put some political pressure on the Anhui authorities to fork over some more Chery shares to SAIC. Chery on the other hand wanted to get rid of SAIC as soon as possible, because they felt limited in their potential. The dispute continued for two years until a resolution was found. SAIC returned the Chery shares to the original owners and Chery received its own production license.
Next week
Chery Automobile really takes off. The brand continues its rapid growth and releases a raft of new products.