In July 2023, the Chinese auto market continued its momentum, witnessing the sale of approximately 1.775 million new cars, as the China Passenger Car Association (CPCA) reported. This figure reflects a 2% increase compared to the previous period. Notably, the market experienced substantial activity in the new energy vehicle (NEV) segment, with 421,000 electric vehicles (EVs) and 220,000 plug-in hybrid electric vehicles (PHEVs) sold. NEVs accounted for 36% of the total sales, underlining their growing significance in the market.
Best selling brands
Regarding market dominance, BYD emerged as the top-performing auto brand in China for the month, with a remarkable sales figure of 219,736 vehicles, securing a substantial 12.38% market share. Volkswagen solidified its position as the second best-selling brand, with sales totaling 178,745 cars and capturing 10.07% market share. Toyota claimed the third spot, selling 134,316 vehicles and representing a 7.57% market share. Honda closely followed in fourth place, with 89,529 vehicles sold and a 5.04% market share. Changan rounded off the top five, recording sales of 85,248 cars and accounting for 4.72% market share.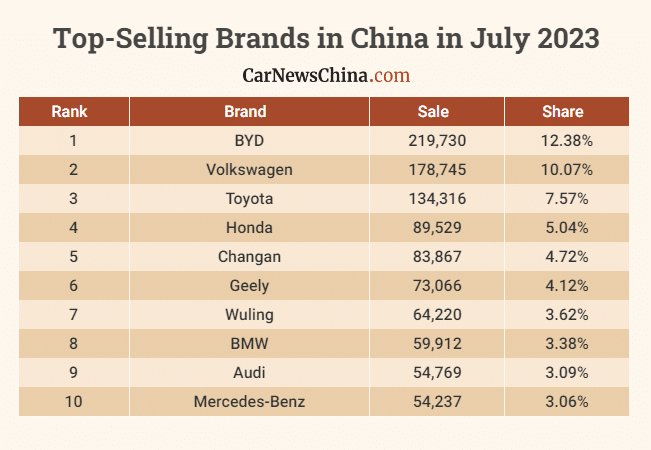 Interestingly, Tesla's sales strategy impacted its ranking, as the company typically delivers fewer vehicles in China at the beginning of a quarter, resulting in a lower ranking. In July, Tesla's sales in the Chinese market ranked 17th. This pattern is consistent with Tesla's historical trend, often achieving a top 10 ranking only in the final month of each quarter.
Within Chinese NEVs, BYD showcased a commanding presence across both the EV and PHEV categories. BYD held a substantial 27% share in the Chinese EV market and an even more impressive 48% share in the PHEV market for the month.
BYD continued to assert its dominance in the pure EV market, selling 113,825 vehicles and securing a 27.04% market share. Aion claimed the second position with 45,025 cars sold, constituting a market share of 10.69%. Tesla secured the third spot with 31,423 vehicles sold, capturing a market share of 7.46%. Wuling and Nio completed the top five list as the best-selling pure electric brands.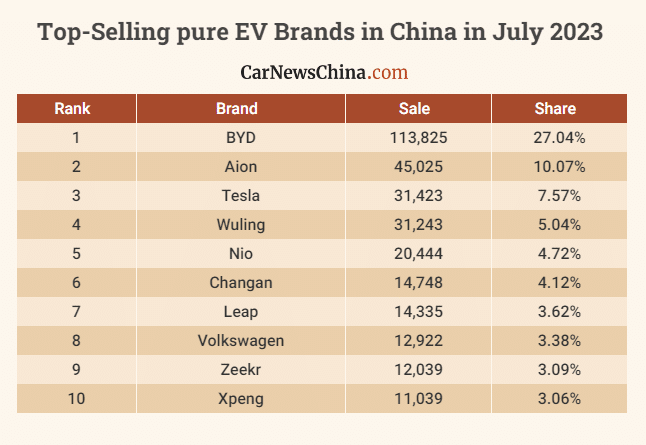 Best selling cars
Turning attention to the most sought-after models, the top three vehicles in the Chinese market for July were the BYD Qin Plus, which sold 37,129 cars, followed by the BYD Song Plus with 29,991 units sold, and the Volkswagen Lavida with 28,898 vehicles sold.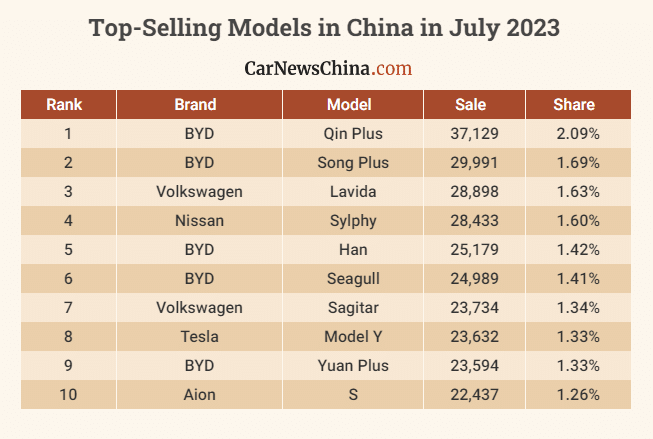 Taking a closer look at the best-performing pure electric models, the rankings for July are as follows: the BYD Seagull emerged as the best-selling pure electric model, recording sales of 24,989 units; the Tesla Model Y followed closely with 23,632 units sold; and the BYD Yuan Plus, known as ATTO 3 in some markets, secured the third position with 23,594 units sold.
(Note: If you find that the sales data is different from other articles we published, it is mainly due to data differences caused by logistics and distribution, and some models are not fully sold in the Chinese market due to export reasons.)
Source: Dongchedi