In August 2023, the Chinese automobile market continued its robust performance, registering the sale of 1.920 million new cars, as the China Passenger Car Association (CPCA) reported. This figure represents a 2.5% increase compared to the previous month, highlighting the resilience and growth of the industry. Notably, the market witnessed significant activity in the new energy vehicle (NEV) sector, with 491,000 electric vehicles (EVs) and 225,000 plug-in hybrid electric vehicles (PHEVs) finding buyers. NEVs accounted for 37.3% of total vehicle sales, underscoring their escalating importance in the market.
BYD Secures the Top Spot
Regarding market dominance, BYD emerged as the top-performing auto brand in China for the month, achieving remarkable sales figures. BYD sold 230,077 vehicles, securing an impressive 11.98% market share.
Volkswagen maintained its second-place position as the second best-selling brand in China, with total sales reaching 195,548 cars. This achievement translated to a 10.18% market share. Toyota secured the third spot, selling 155,491 vehicles, equivalent to an 8.10% market share.
Honda closely followed in fourth place, with 102,105 vehicles sold, capturing a 5.32% market share. Changan rounded off the top five, recording sales of 82,243 cars, which accounted for a 4.28% market share.
Tesla Adopts New Delivery Strategy
Tesla implemented a change in its delivery strategy in the Chinese market. Unlike the previous year, when Tesla typically conducted large-scale deliveries at the end of each quarter, the company now carries out these deliveries in August. This strategic shift led to a remarkable 122% year-on-year increase in Tesla's sales in China for August, further solidifying its position as a significant player in the Chinese EV market.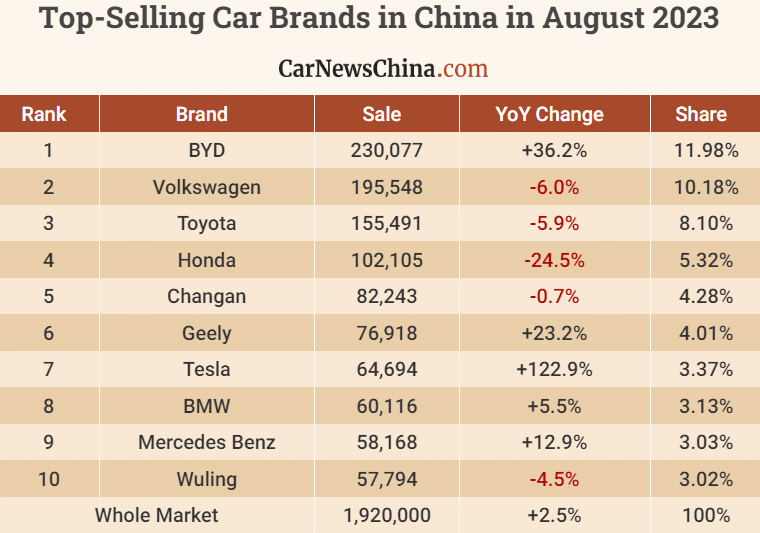 BYD Both Dominates EV and PHEV Market
BYD showcased a commanding presence within the Chinese NEV segment, excelling in both the EV and PHEV categories. BYD captured a substantial 25% market share in the Chinese EV market. Impressively, the brand secured an even more significant 48% market share in the PHEV category for the month.
Top-Selling Pure Electric Vehicle Brands
In the pure electric vehicle market, BYD maintained its dominance, selling 123,712 vehicles and securing a notable 25.20% market share. Tesla claimed the second position with 64,694 cars sold, constituting a market share of 13.18%. Aion secured the third spot with 52,057 vehicles sold, capturing a market share of 10.60%. Wuling and Nio completed the top five list as the best-selling pure electric brands.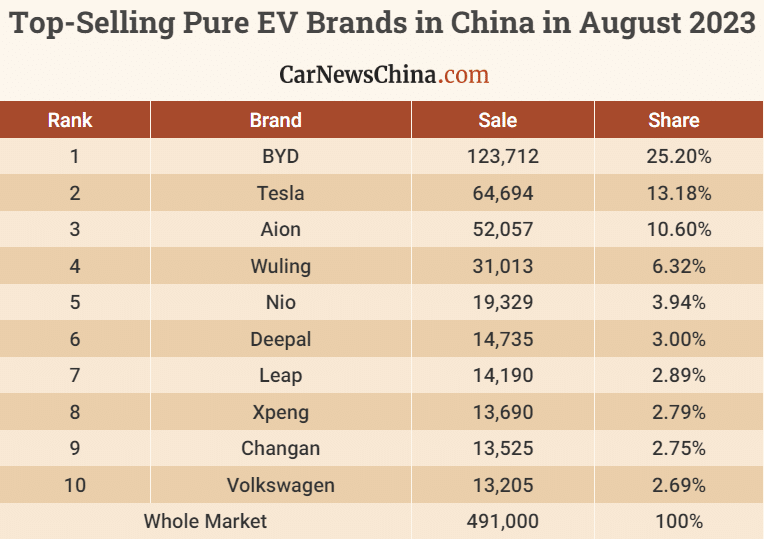 Top-Selling Models
In terms of individual models, the top three vehicles in the Chinese market for August 2023 were:
Tesla Model Y: With an impressive sales figure of 51,117 cars.
BYD Qin Plus: This model came in second, with 39,808 units sold,
BYD Seagull: The BYD Seagull claimed the third position, with 34,841 vehicles sold.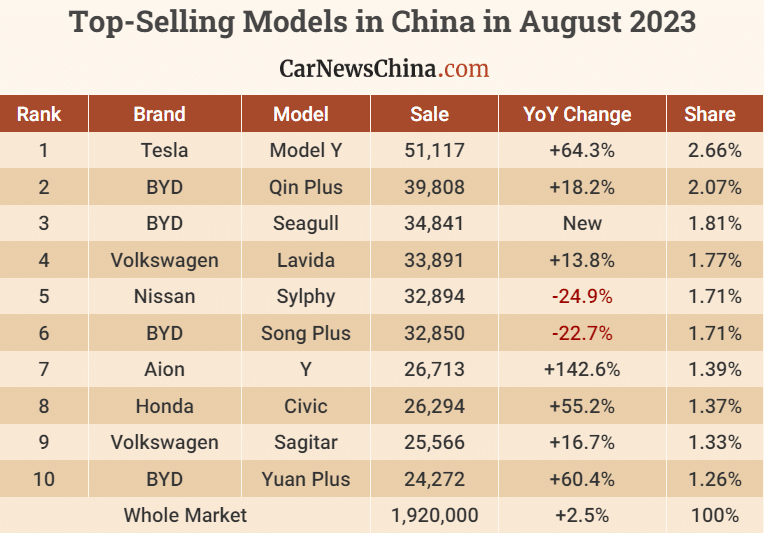 (Note: If you find that the sales data is different from other articles we published, it is mainly due to data differences caused by logistics and distribution, and some models are not fully sold in the Chinese market due to export reasons.)