In Q1-Q3 2023, 15.239 million passenger cars were sold in the Chinese market., as the China Passenger Car Association (CPCA) reported. This figure represents a 2.4% increase compared to the Q1-Q3 last year. Notably, the market witnessed significant activity in the new energy vehicle (NEV) sector, with 3,513,000 electric vehicles (EVs) and 1,678,000 plug-in hybrid electric vehicles (PHEVs) finding buyers. NEVs accounted for 34.1% of total vehicle sales.
BYD Secures the Top Spot
Regarding market dominance, BYD emerged as the top-performing automotive brand in China during the first three quarters of 2023, securing remarkable sales figures by selling 1,792,802 vehicles and commanding an impressive 11.76% market share.
Volkswagen maintained its second-place position, selling 1,561,743 vehicles and occupying a 10.25% market share. Toyota secured the third spot, selling 1,248,345 cars and capturing an 8.19% market share.
Honda closely followed in fourth place, with 828,553 vehicles sold, capturing a 5.44% market share. Changan rounded off the top five, recording sales of 718,357 vehicles, which accounted for a 4.71% market share.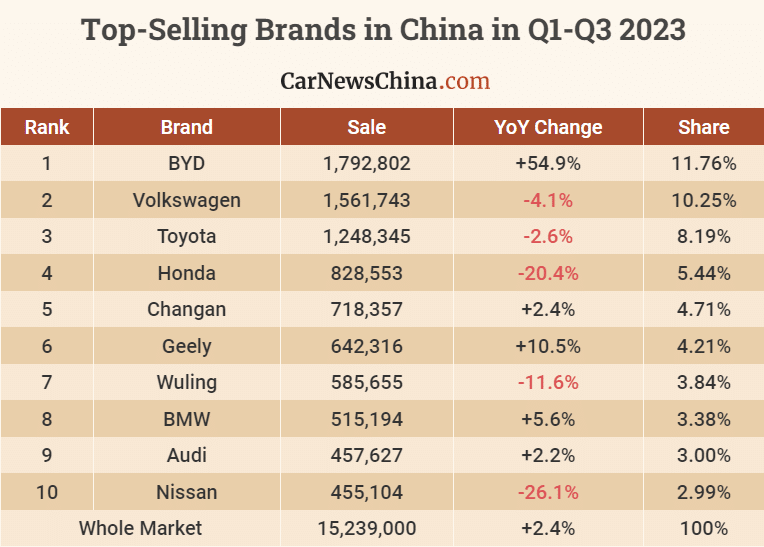 Top-Selling Pure Electric Vehicle Brands
In the electric vehicle sector, BYD maintained its dominance, selling 893,754 vehicles and securing a 30.15% market share. Tesla claimed the second position with 433,729 cars sold, constituting a market share of 14.63%. Aion secured the third spot with 355,960 vehicles sold, capturing a market share of 12.01%. Wuling and Nio completed the top five list as the best-selling pure electric brands.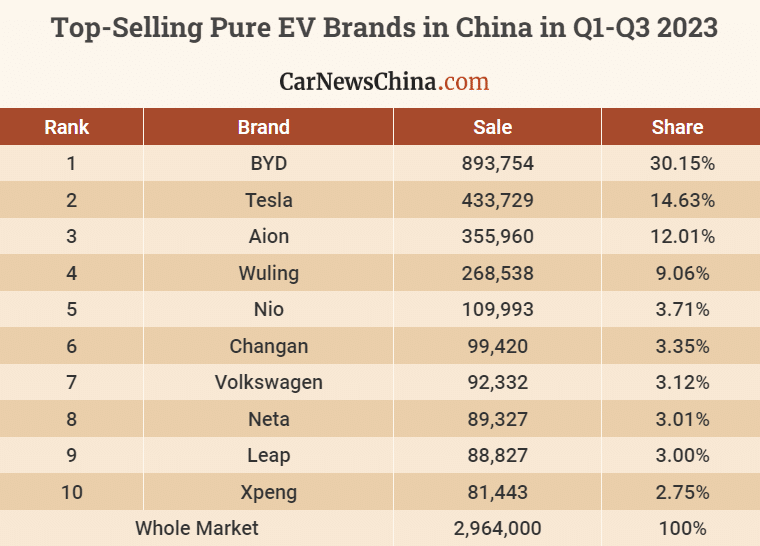 Top-Selling Models
On the individual model front, the three top-performing vehicles in the Chinese market for the first three quarters of 2023 were:
Tesla Model Y: 320,109 units.
BYD Qin Plus: 317,115 units.
BYD Song Plus: 276,140 units.